Q
Problem solve
Get help with specific problems with your technologies, process and projects.
Requirements discipline throughout the SDLC
Requirements documentation varies throughout the software development life cycle. Expert Roxanne Miller explains how requirements activities and artifacts fit into the SDLC.
What two documents come after the requirements specification document?
Let's start by discussing requirements as a discipline performed in the context of a software application development...
Continue Reading This Article
Enjoy this article as well as all of our content, including E-Guides, news, tips and more.
By submitting your personal information, you agree that TechTarget and its partners may contact you regarding relevant content, products and special offers.
You also agree that your personal information may be transferred and processed in the United States, and that you have read and agree to the Terms of Use and the Privacy Policy.
process such as the Rational Unified Process (RUP) -- just to name one as a common reference. A documented, repeatable process such as Rational Unified Process places structure around the activities performed and the resulting artifacts, also known as deliverables. Related to the analyst's role, RUP includes the following disciplines:
Business modeling: Provides guidance for the analyst on how to understand and visually depict a business.
Requirements: Involves finding, maintaining and managing requirements for the business application. The business models developed in the business modeling discipline are a key input to these activities.
Analysis and design: Transforms the requirements into a design of the system-to-be and adapts that design to match the implementation environment, designing it for performance. The analyst can discover flaws in design. Change requests are generated and applied. Business entities in the business modeling discipline are also an input to identifying analysis and design solutions.
Implementation: Defines the organization of code, implements classes and objects, tests the resulting implementation elements, and integrates them into an executable system. This discipline includes developer testing -- that is, testing done by developers to verify that each developed element behaves as intended. This behavior derives ultimately, although often indirectly, from requirements captured by the analyst.
Test: Validates the system against (amongst other things) the requirements, ensuring that the system works properly. Requirements artifacts provided by the analyst are the basis for the definition of the evaluation activities.
Deployment: Describes the activities associated with ensuring that the software product and related materials are available for end users. The analyst produces the software requirements specification, which is one of the key inputs to development end user support and training materials.
Configuration and change management: Supports the analyst with the process of change, ensuring that changes are effectively documented and accepted during the lifecycle of the project. This also allows the analyst and those in other roles to do impact analysis.
Project management: Plans the project and each iteration and phase of the project. The requirements artifacts, particularly the requirements management plan, are important inputs to the planning activities. The driving forces behind the assessment and management activities are the requirements.
Environment: Develops and maintains the supporting artifacts that the analyst uses during requirements management and modeling.
Requirements discipline artifacts
Now let's focus specifically on the activities and resulting artifacts of the requirements discipline -- again using Rational Unified Process as a common frame of reference:


Activity
Description
Key resulting artifacts
Analyze the problem
Capture a common vocabulary, develop vision, identify end-user classes, and develop requirements management plan.
Glossary
Vision
Use case model
Requirements management plan
Requirements attributes
Understand stakeholder needs
Capture a common vocabulary, develop vision, elicit stakeholder requests, identify end users and manage dependencies.
Glossary
Vision
Actor (user) list
Stakeholder requests
Storyboard
Use case model
Supplementary specifications
Requirements attributes
Define the system
Develop vision, capture a common vocabulary, identify end users and manage dependencies.
Glossary
Use case model
Supplementary specifications
Requirements attributes
Manage the scope
Develop vision, manage dependencies and prioritize user goals.
Vision
Software architecture document
Requirements attributes
Refine the system definition
Detail user goals and detail software requirements.
Supplementary specifications
Use case
Software requirements specification
Manage changing requirements
Review requirements, manage dependencies and structure user goal modeling.
Review record
Use case model
Requirements attributes
The requirement artifacts as key inputs
The artifacts resulting from the requirements discipline are inputs to the activities for the subsequent disciplines (for example, analysis and design) in the project lifecycle as shown in Figure 1. Within each of these subsequent disciplines are their respective activities and resulting artifacts.
FIGURE 1: Rational Unified Process discipline relationships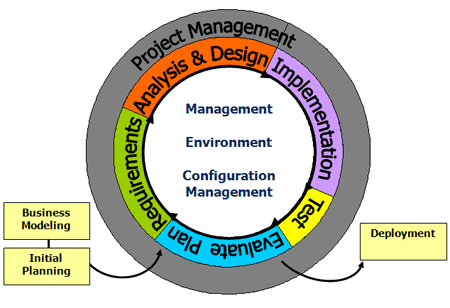 Summary
There are numerous artifacts (deliverables) that follow the software requirements specification. That is, the software requirements specification is a key input to multiple activities and resulting artifacts within an application development process. A short list of examples of resulting artifacts from activities performed in disciplines that follow the requirements discipline is included in the table that follows. Each organization should define their application development process, which includes defined roles, activities and artifacts. The process should also indicate relationships between the roles and activities that span across each discipline in order to understand the order that activities are performed.


Discipline following requirements
Example RUP resulting artifacts
Analysis and design
Software architecture document
Design model (e.g. data model, class diagram)
Use case realization
Change request
Implementation
Integration build plan
Test log/test results
Implementation element (e.g. source code)
Test
Test plan
Test strategy
Test script
Test results
Change request
Configuration and change management
Change control plan
Project repository
Deployment
Deployment plan
Training materials
Test evaluation summary
Installation artifacts
Dig Deeper on Penetration Testing
PRO+
Content
Find more PRO+ content and other member only offers, here.
Have a question for an expert?
Please add a title for your question
Get answers from a TechTarget expert on whatever's puzzling you.