News
Stay informed about the latest enterprise technology news and product updates.
How to make Agile stick: Howard Deiner at Mile High Agile
At the Mile High Agile conference held in Denver on April 7th, Howard Deiner of Deinersoft, Inc. gave a presentation about transitioning to Agile entitled, "How to make sure Agile sticks."

Download this free guide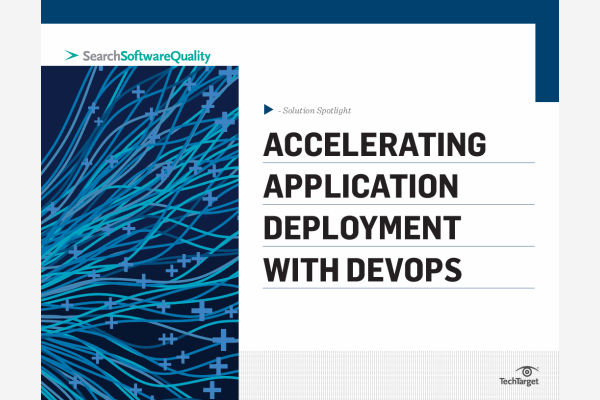 The Benefits of a DevOps Approach
Bringing development and IT ops together can help you address many app deployment challenges. Our expert guide highlights the benefits of a DevOps approach. Explore how you can successfully integrate your teams to improve collaboration, streamline testing, and more.
By submitting your personal information, you agree that TechTarget and its partners may contact you regarding relevant content, products and special offers.
You also agree that your personal information may be transferred and processed in the United States, and that you have read and agree to the Terms of Use and the Privacy Policy.
Deiner's presentation was filled with stories of Agile transitions and some of the pitfalls and traps that organizations can fall into. "A 'smell' is a problem that comes up, and you should raise an eyebrow," said Deiner when talking about "smells" that warn him that there may be trouble with an Agile transition effort, and it may require further investigation. However, just like with expensive Gorgonzola cheese, Deiner says, you don't want to toss everything with a suspicious smell.
Examples of "smells" to be leary of with Agile transition include:
Coach-lite: The matrixed organization, where a coach is spread across multiple teams.
Just fix the delivery team: Applying Agile only to the delivery team rather than the entire organization.
Buying tools before you have your processes down: Figure out your processes and buy tools that will fit your needs, rather than the other way around.
Closet command and controllers: Management must trust their staff and encourage collaboration.
Methodology polytheism: Mixing Agile and traditional methodologies can be wasteful and frustrating.
Deiner gave eight traction tips that would help in making Agile "stick" even when problems are encountered.