News
Stay informed about the latest enterprise technology news and product updates.
Managing requirements in Agile environments
Agile environments encourage and embrace requirements changes. However, knowing how to effectively manage those changes can be a huge challenge. In March, SearchSoftwareQuality focused on tips from experts about requirements management. In this series of articles we look specifically at managing requirements in Agile environments.

Download this free guide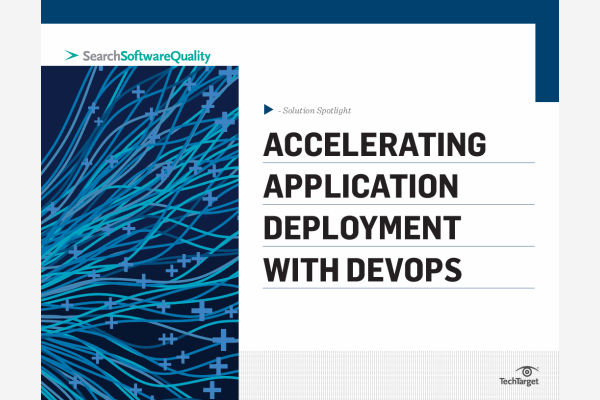 The Benefits of a DevOps Approach
Bringing development and IT ops together can help you address many app deployment challenges. Our expert guide highlights the benefits of a DevOps approach. Explore how you can successfully integrate your teams to improve collaboration, streamline testing, and more.
By submitting your personal information, you agree that TechTarget and its partners may contact you regarding relevant content, products and special offers.
You also agree that your personal information may be transferred and processed in the United States, and that you have read and agree to the Terms of Use and the Privacy Policy.
Agile requirements: A conversation with author Dean Leffingwell, part 1
Author of Agile Software Requirements – Lean Requirements Practices for Teams, Programs, and the Enterprise Dean Leffingwell talks about the differences between Agile and traditional requirements practices and gives advice on what to look for in Agile requirements tools.
Requirements in Scrum environments: Q&A with Dean Leffingwell, part 2
Dean Leffingwell, author of Agile Software Requirements – Lean Requirements Practices for Teams, Programs, and the Enterprise, answers questions about requirements management in Scrum environments.
The value of visible requirements
Chris McMahon describes the experience of migrating requirements data from a difficult-to-use tool to a whiteboard that clearly displays requirements and status.
Getting on the same page: How testers can help clarify requirements
Agile expert Lisa Crispin gives helpful advice to testers on helping to clarify requirements. Programmers, testers and business experts must work together to ensure requirements are well-understood.
Want more? Dean Leffingwell will be presenting at the Virtual Trade Show on April 27th: Beating Key ALM Challenges.