Evaluate
Weigh the pros and cons of technologies, products and projects you are considering.
A guide to buying app testing tools for your business
App testing tools have many different facets. Automated functional testing, code coverage and bug tracking software are the three categories of app testing software covered in this buyer's guide.
Introduction
Load testing, automated functional testing, quality assurance testing, defect management, unit testing, code coverage, integration testing, black box testing, white box testing, manual testing, usability testing -- are you sufficiently lost yet?
A surefire way to ensure your application will fail is to not test it before release. Testing is as vital a component of application and software creation as development and design are. As such, the selection of application testing software holds equal weight with the selection of a mobile application development platform or an application lifecycle management suite. But with so many different types of testing -- and that doesn't even include security-focused tests -- where do you begin?
This buyer's guide is your GPS to the world of app testing tools. While unable to cover every type of testing, we've managed to cover three major facets of app testing software: automated functional testing, bug tracking and coverage.
In their first article, testing experts Michael Larsen and Matt Heusser shed light on what automated functional testing tools, bug tracking software and coverage tools are. When combined, these three different types of app testing tools can provide enterprises a solid base for their application testing toolkit.
In their second article, Larsen and Heusser present use cases for application testing software. While the need for app testing tools is intrinsic to any company developing applications, there are different scenarios for when to use an automated functional testing tool, bug tracking software or code coverage software. Reducing production time, reducing costs on man hours spent finding defects and meeting requirements in a requirements-based industry are some of the use cases discussed.
In part three of this guide, Larsen and Heusser guide you down the path that leads to purchasing the right app testing software. By something as simple as making sure an app testing tool has a trial version, you can ensure that your employees are able to use the software. Looking at more complex aspects like integration and compatibility helps you make sure that the tool fits your business on a technical level.
The fourth section contains three articles that provide analysis and insight into the three main testing software categories. In one piece, Larsen and Heusser showcase several different automated functional testing tools that fit different organizations in different types of scenarios. If you were wondering which bug tracking software works best for your organization, Larsen and Heusser have you covered with a piece on defect management tools. Finally, code and application coverage app testing tools are covered in detail, giving you a breakdown of what tools are out there, and which ones fit your business best.
In a land as vast and twisting as application testing, this buyer's guide tells you which turns to make, which exit to take and what route is the most efficient one in your journey toward making the right app testing tools purchase for your business.
1

What is?

-
A look at application testing in today's development environments
Automated functional testing, code coverage and test case management, and defect management are core areas of application testing. This section shows you what each of these major facets of testing do and how they can help your organization.
Feature
Application testing tools make enterprises' app development more efficient. Learn more about automation, coverage and bug tracking tools. Continue Reading
2

Do I need?

-
Figure out what types of testing tools you need and when you need them
Learn how to identify a need for application testing tools in this section. Once the need for app testing tools is established, figure out what type of testing tools you'll require with the use cases presented by experts Larsen and Heusser.
Feature
Experts Matt Heusser and Michael Larsen present use cases for three categories of application testing tools you need to know: automation, bug tracking and coverage. Continue Reading

Download this free guide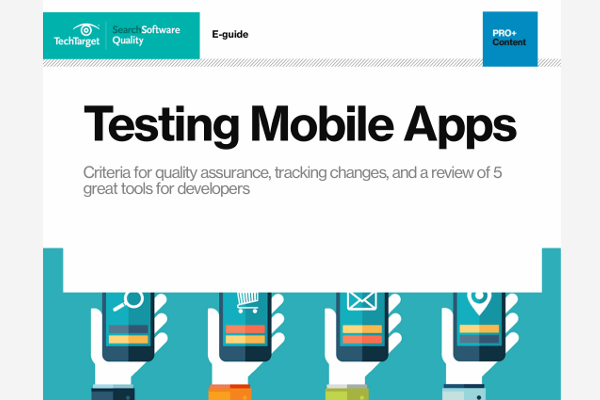 Download Our Guide to Testing Mobile Apps
Understand respected criteria for quality assurance, tracking changes, and see a review of 5 great tools for developers.
By submitting your personal information, you agree that TechTarget and its partners may contact you regarding relevant content, products and special offers.
You also agree that your personal information may be transferred and processed in the United States, and that you have read and agree to the Terms of Use and the Privacy Policy.
3

How to buy

-
The key features you should pay attention to when purchasing app testing tools
As with any software, there are key features to be aware of when purchasing app testing tools. There is also a set of questions you must ask yourself to start to whittle down the type of app testing software you need to determine which app testing software vendor is right for you. This section shows you the key features to hone in on and the right questions to ask yourself when considering buying an application testing tool.
Feature
Before purchasing application testing tools, you need to know how to evaluate them. Trial versions, vendor research and assessing your organization's needs may help. Continue Reading
4

Which should I buy?

-
Which app testing software is right for you?
In this section, Larsen and Heusser present three features that cover which automation, bug tracking and coverage software are right for your enterprise.
Feature
Testing experts Michael Larsen and Matt Heusser explore the top automated functional testing tools in the market today like Selenium, Hewlett Packard Enterprise UFT and TestComplete Platform. Continue Reading
Feature
Bug tracking software is a vital addition to your app testing toolkit. Explore the options, from standalone tools to commercial suites, to find the right bug tracker for you. Continue Reading
Feature
Application and code coverage software helps testers track which features have been tested. See which application coverage software is the right fit for your enterprise. Continue Reading
5

Top product overviews

-
The top application testing software in the market today
In this section, we present the top software found in the three major categories of application testing. The automated functional testing tools presented herein range from simple, best-of-breed tools to parts of a larger testing suite. Bug tracking software is an extremely valuable tool for any company, and there are a number of choices out there. The products presented here range from open source options to fully licensable, priced-out options. Finally, the coverage tools presented here perform or enhance code coverage features. While some products featured below are used solely for code coverage, others are quality assurance and test case management software, which have features able to augment an organization's code coverage needs.