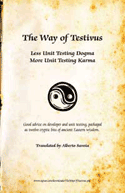 Thanks to the Seinfeld show, you've probably heard of Festivus. Now we have Testivus.
"The Way of Testivus," subtitled "Less testing dogma. More testing karma," is a unique booklet that contains years of accumulated wisdom about software development and unit testing. The ideas are presented in the form of ancient Zen epigrams and stories. "The Way of Testivus" is fun to read, short and to the point, but it carries a powerful and memorable set of messages for all developers.
"Translated" by Alberto Savoia, CTO and Co-founder of Agitar Software, the booklet creatively drives home the importance of software testing -- particularly unit testing by software developers. Consider these words of wisdom:
"If the code deserves to be written, it deserves to have tests."
"Think of code and test as one."
"The test is more important than the unit."
Download the booklet to learn more about the way of Testivus.
This was first published in June 2007