Project management author extends savings to SSQ members
Distinguished project management consultant and author Barbee Davis offers SearchSoftwareQuality members 30% savings off her latest title.
Barbee Davis is an experienced Project management consultant and author who routinely writes for a semi-monthly international publication, The Community Post on project manager concerns in addition to advising on how-to successfully negotiate projects.
Continue Reading This Article
Enjoy this article as well as all of our content, including E-Guides, news, tips and more.
By submitting your personal information, you agree to receive emails regarding relevant products and special offers from TechTarget and its partners. You also agree that your personal information may be transferred and processed in the United States, and that you have read and agree to the Terms of Use and the Privacy Policy.

I will be speaking with her at the beginning of next month to gain an insight into her success and philosophy. But in the meantime she wanted SearchSoftwareQuality to extend our readers this 30% savings coupon on her latest project management book published through O'Reilly .
To receive this 30% title savings, apply this promotional code ABF09 through the O'reilly website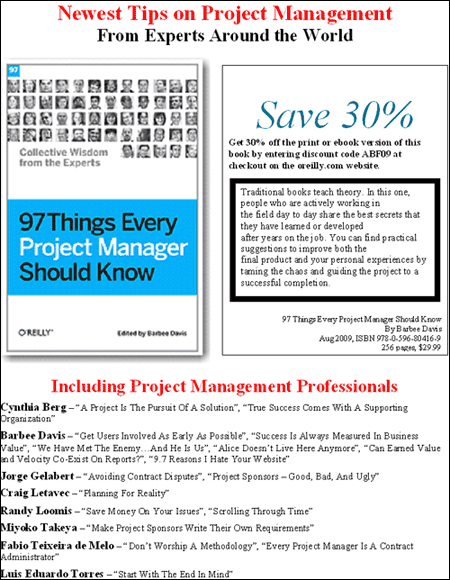 For more information on Davis click here.
Dig Deeper on Software Project Management Process