Manage
Learn to apply best practices and optimize your operations.
Ajax in Action -- Chapter 7, Security and Ajax
"Security and Ajax" looks at the issue of security in Ajax from a number of angles. Ajax is a Web technology and many of the issues that it faces are no different from any other Web app. This chapter covers the basic ground, concentrating on Ajax-specific issues such as securely importing generated JavaScript from the server, and protecting your Web service entry points from unwanted direct manipulation. Security can be a showstopper for serious applications, and "Security and Ajax" gives the basic steps needed to keep it under control.
As a registered member of SearchAppSecurity.com, you're entitled to a complimentary copy of Chapter 7 of Ajax in...
Continue Reading This Article
Enjoy this article as well as all of our content, including E-Guides, news, tips and more.
By submitting your personal information, you agree that TechTarget and its partners may contact you regarding relevant content, products and special offers.
You also agree that your personal information may be transferred and processed in the United States, and that you have read and agree to the Terms of Use and the Privacy Policy.
Action written by David Crane, Eric Pascarello and Darren James and published by Manning Publications. "Security and Ajax" looks at the issue of security in Ajax from a number of angles. Ajax is a Web technology and many of the issues that it faces are no different from any other Web app. This chapter covers the basic ground, concentrating on Ajax-specific issues such as securely importing generated JavaScript from the server, and protecting your Web service entry points from unwanted direct manipulation. Security can be a showstopper for serious applications, and "Security and Ajax" gives the basic steps needed to keep it under control.
---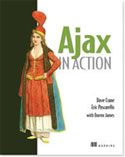 Book description:
Web users are getting tired of the traditional Web experience. They get frustrated losing their scroll position; they get annoyed waiting for refresh; they struggle to reorient themselves on every new page. With asynchronous JavaScript and XML, known as "Ajax," you can give them a better experience. Once users have experienced an Ajax interface, they hate to go back. Ajax is new way of thinking that can result in a flowing and intuitive interaction with the user.
Ajax in Action helps you implement that thinking--it explains how to distribute the application between the client and the server while retaining the integrity of the system. You will learn how to ensure your app is flexible and maintainable, and how good, structured design can help avoid problems like browser incompatibilities. Along the way it helps you unlearn many old coding habits. Above all, it opens your mind to the many advantages gained by placing much of the processing in the browser. If you are a Web developer who has prior experience with Web technologies, this book is for you.
>> Click here to view Chapter 7: Security and Ajax
>> Buy the book
---
Dig Deeper on Building security into the SDLC (Software development life cycle)
PRO+
Content
Find more PRO+ content and other member only offers, here.