Manage
Learn to apply best practices and optimize your operations.
Essentials of Lean Six Sigma -- Chapters 1 and 4, Introduction and Improvement
Software development projects may benefit from he introduction of lean Six Sigma management principles. To learn more about how lean Six Sigma might benefit you, read these two free chapters.
As a registered member of SearchSoftwareQuality.com, you're entitled to a complimentary copies of Chapters 1 and...
Continue Reading This Article
Enjoy this article as well as all of our content, including E-Guides, news, tips and more.
By submitting your personal information, you agree that TechTarget and its partners may contact you regarding relevant content, products and special offers.
You also agree that your personal information may be transferred and processed in the United States, and that you have read and agree to the Terms of Use and the Privacy Policy.
4 of Essentials of Lean Six Sigma written by Salman Taghizadegan and published by Newnes, a division of Elsevier.
"Introduction to Essentials of Lean Six Sigma" explains the concepts of Six Sigma and lean production (aka kaizen) and how these two work in combination. There is a chart that compares three sigma with Six Sigma defect examples, and another chart that compares traditional methods with lean Six Sigma methods.
"Six Sigma Continuous Improvement" outlines the principles behind continuous improvement. DMAIC is referenced, and there is a detailed table of Six Sigma improvement steps.
---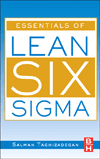 Book description:

Six Sigma is a management program that provides tools that help manufacturers obtain efficient, stream-lined production to coincide with ultimate high quality products. Lean Six Sigma will show how the well-regarded analytical tools of Six Sigma quality control can be successfully brought into the well-established models of lean manufacturing, bringing efficient, stream-lined production and high quality product readily together.
This book offers a thorough, yet concise introduction to the essential mathematics of Six Sigma, with solid case examples from a variety of industrial settings, culminating in an extended case study. Various professionals will find this book immensely useful, whether it be the industrial engineer, the industrial manager, or anyone associated with engineering in a technical or managing role. It will bring about a clear understanding of not only how to implement Six Sigma statistical tools, but also how to do so within the bounds of Lean manufacturing scheme. It will show how Lean Six Sigma can help reinforce the notion of "less is more," while at the same time preserving minimal error rates in final manufactured products.
>> Read Chapter 1: Introduction to Essentials of Lean Six Sigma.
>> Read Chapter 4: Six Sigma Continuous Improvement.
>> Buy the book (for those in North America)
>> Buy the book (for those outside of North America)
Printed with permission from Newnes, a division of Elsevier. Copyright 2006. "Essentials of Lean Six Sigma" by Salman Taghizadegan. For more information on this title and other similar books, please visit www.books.elsevier.com.
---
Dig Deeper on Software Project Management Process
PRO+
Content
Find more PRO+ content and other member only offers, here.