Scaling Software Agility: Best Practices for Large Enterprises -- Chapter 7, The Essence of Agile
Agile software development can be adopted on the enterprise level, and Dean Leffingwell's "Scaling Software Agility" explains how. This free chapter, "The Essence of Agile," describes how agile profoundly changes the SDLC.
As a registered member of SearchSoftwareQuality.com, you're entitled to a complimentary copy of Chapter 7 of
Scaling Software Agility: Best Practices for Large Enterprises
written by Dean Leffingwell and published by Addison-Wesley Professional. "
The Essence of Agile
" asserts that
agile software development
essentially changes every aspect of the SDLC. Measurements of success, management culture, testing, QA and so forth are very different under agile. Leffingwell, along with agile thought leader Ryan Martens, enumerates these differences and how they impact the software development life cycle.
Continue Reading This Article
Enjoy this article as well as all of our content, including E-Guides, news, tips and more.
By submitting your personal information, you agree to receive emails regarding relevant products and special offers from TechTarget and its partners. You also agree that your personal information may be transferred and processed in the United States, and that you have read and agree to the Terms of Use and the Privacy Policy.

---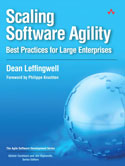 Book description:

Agile development practices, while still controversial in some circles, offer undeniable benefits: faster time to market, better responsiveness to changing customer requirements, and higher quality. However, agile practices have been defined and recommended primarily to small teams. In Scaling Software Agility, Dean Leffingwell describes how agile methods can be applied to enterprise-class development.
* Part I provides an overview of the most common and effective agile methods.
* Part II describes seven best practices of agility that natively scale to the enterprise level.
* Part III describes an additional set of seven organizational capabilities that companies can master to achieve the full benefits of software agility on an enterprise scale. This book is invaluable to software developers, testers and QA personnel, managers and team leads, as well as to executives of software organizations whose objective is to increase the quality and productivity of the software development process but who are faced with all the challenges of developing software on an enterprise scale.
>> Read Chapter 7: The Essence of Agile.
>> Buy the book
This sample chapter is excerpted from the book, Scaling Software Agility: Best Practices for Large Enterprises," authored by Dean Leffingwell, published by Addison-Wesley Professional, March, 2007, ISBN 0321458192, Copyright Pearson Education, Inc; for more information please visit: www.awprofessional.com
---