Get started
Bring yourself up to speed with our introductory content.
Building a Testing Center of Excellence: A tutorial
In this tutorial, senior test architect David W. Johnson shares winning approaches he's learned from his work on several successful TCoE implementations. Johnson walks you through a TCoE's core concepts and benefits, getting started, key players on the team, key deliverables, and more.
Defining and delivering on software requirements can be a project maker or breaker for development teams. In this...
Continue Reading This Article
Enjoy this article as well as all of our content, including E-Guides, news, tips and more.
By submitting your personal information, you agree that TechTarget and its partners may contact you regarding relevant content, products and special offers.
You also agree that your personal information may be transferred and processed in the United States, and that you have read and agree to the Terms of Use and the Privacy Policy.
tutorial, senior test architect David W. Johnson shares winning approaches he's learned from his work on several successful TCoE implementations. From his experience, those who have used this approach are better equipped to create products that meet business needs. Johnson walks you through a TCoE's core concepts and benefits, getting started, key players on the team, key deliverables, and more.
---
TABLE OF CONTENTS
Core ingredients of a Testing Center of Excellence
Generally speaking, the (TCoE) brings testing specialists to engagements to ensure the proper testing techniques are applied on an engagement-by-engagement basis. How does the TCoE accomplish this task? By creating a group of testing specialists, business analysts and technical testing components that can be used to leverage testing knowledge, business knowledge, methodology, and resources across engagements. TCoE practices advance the goal of supplying the organization with answers to questions about how closely the constructed product meets the organizational requirements. This allows for informed decision making on the implementation and support of a product.
Here are the core ingredients of the TCoE: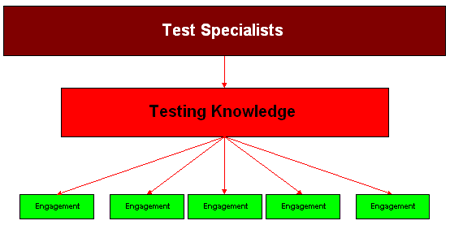 Figure 1: Testing Center of Excellence Model
Benefits of the TCoE
The TCoE delivers a mature institutionalized testing process. The benefits of a mature TCoE include:
Leveraging environmental usage and knowledge across engagements provides real cost savings;
Leveraging testing specialists across engagements;
Providing testing consistency across engagements;
Reducing cross-engagement testing budgets;
Accurately predicting, testing efforts and budget
You shouldn't have to look beyond your own testing teams to discover the answers to the testing challenge. With the engagement of the appropriate on-site consultants, your organization can implement structured, cost effective testing using the TCoE model. The TCoE is not a technology or tool-driven vendor solution, and it should be completely vendor neutral. The on-site consultants should have a demonstrated the ability to implement a TCoE.
Testing Center of Excellence as a corporate service
Once implemented, the TCoE will be able to deliver the following services to current and potential business partners:
Fit assessment and review: This service is a quick fit assessment between the TCoE and potential business partner. This engagement is workshop-driven and action-oriented. It identifies, at a high level, the business issues, benefits and areas within an organization that can leverage the abilities of the TCoE. This service can also include an activity for organizations that are currently conducting testing efforts and are encountering challenges.
Business discovery and planning: This service represents a set of activities that baseline the testing processes or lack of processes within a potential business partner laying a framework for integrating the business partner with the TCoE. It also consists of an exercise to discover quick hits, in terms of testing efficiencies with the business partner.
Implementation: This service represents the full integration of a corporate business partner with the TCoE. The TCoE should offer a full range of services from test management; test planning, test design, test execution, test automation, and test tooling leading to full benefits realization.
The TCoE multifaceted service should provide its corporate business partners the practical testing knowledge, capabilities and experience they need. Furthermore, TCoE leverages its solid business relationships to form partnerships founded on mutual trust and shared goals.
Testing Center of Excellence: The core team
The TCoE core team includes:
Test managers
Test architects
Test methodologists
Test automation engineers
Test designers
TCoE Coordinators
Testers, at least potentially
This team is strongly partnered with the environment specialist, quality assurance specialist/manager, and – potentially – testers.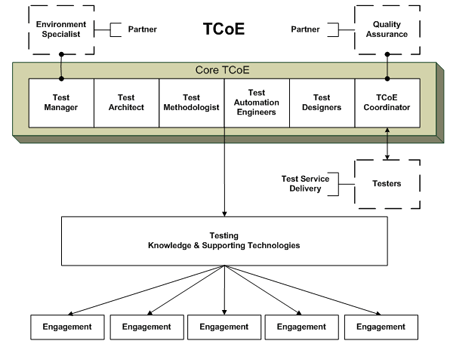 Figure 2 – Testing Center of Excellence – engagement structure
These are roles and responsibilities, not resources. Therefore, one resource could fulfill multiple roles within the TCoE structure. The environment specialist role is included, but with a proviso: any environment activities or roles – such as configuration management -- that are for the benefit of the entire project or organization are not part of TCoE. The roles of quality assurance specialist and testers are not included within the TCoE, but are closely partnered to the TCoE core team. Quality assurance is a discipline unto itself, one that should be consulted by the TCoE to improve the TCoE model, processes and deliverables. Testers are members of the testing team that will benefit from TCoE participation; if the testing teams are considered part of the TCoE, then move this role into the TCoE.
Continue to the next section: Defining, acing core deliverables of a Testing Center of Excellence.
Dig Deeper on Automated Software Testing
PRO+
Content
Find more PRO+ content and other member only offers, here.