Download this free guide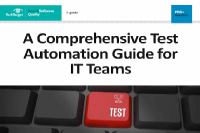 24-Page Test Automation Guide for IT Teams
Software developers increasingly turn to automated testing tools and workflows to speed up testing regimens while ensuring better consistency and completeness in the QA process, but success demands a high level of understanding. Here is your one-stop shop for test automation. This guide walks through the benefits and challenges, how to craft an automated testing strategy, and how to compare tools.
Topics Covered
Agile, DevOps and software development methodologies

(3)

+

Software design and development

(5)

+

Software development lifecycle

(5)

+

Software development team structure and skills

(3)

+

Software test types

(6)

+

Software testing tools and techniques

(6)

+
Trending Topics
Good project managers deliver on schedule, despite the challenges they encounter. Become a time and resource management pro and deliver on the expected completion date.

SDLC

Problem Solve

Software products contain both essential and accidental complexity. To fight accidental complexity, avoid overambitious designs, coding flaws and other common problem areas.
Find Solutions For Your Project
Evaluate

The software development process can be organized around a variety of methodologies, each with its own advantages and disadvantages. Is your team on the right path?

View All Evaluate

Problem Solve

Should an Agile team have an architect? Does cross-functional mean constantly changing? How do teams set velocity and quality? Get the answers to set up and lead Agile teams.

View All Problem Solve

Manage

Developers work best when distractions are at a minimum, yet most organizations simply aren't doing their part to reduce them. Be brave and try these three aggressive methods.

View All Manage
Pro+

Software Quality Downloads View All
Software Quality Basics
Get Started

Fizz, buzz -- no, it isn't cocktail hour, although we don't mind if you pour one. It's time to learn test-driven development with a simple example.

Get Started

Assistive technology ensures that all customers can access software easily. Don't overlook this important element of software quality. Here's how to test software accessibility.

Get Started

Sharpen your pencil; it's APM quiz time. Test your knowledge of application performance monitoring and management, including tools, systems, concepts and best practices.
View All Get Started
Sections from across

SearchSoftwareQuality
Blog: Software Quality Insights
Salesforce recently joined the Linux Foundation's Continuous Delivery Foundation to help grow the CI/CD ecosystem. This move seems to have gone unnoticed by many, but two things stood out to me ...Continue Reading

GitHub has created a way to empower and financially compensate open source developers, and it could reshape the open source software development model – for better or worse. The version control ...Continue Reading