Download this free guide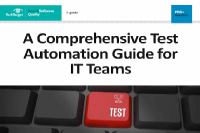 24-Page Test Automation Guide for IT Teams
Software developers increasingly turn to automated testing tools and workflows to speed up testing regimens while ensuring better consistency and completeness in the QA process, but success demands a high level of understanding. Here is your one-stop shop for test automation. This guide walks through the benefits and challenges, how to craft an automated testing strategy, and how to compare tools.
Topics Covered
Agile, DevOps and software development methodologies

(3)

+

Software design and development

(5)

+

Software development lifecycle

(5)

+

Software development team structure and skills

(3)

+

Software test types

(6)

+

Software testing tools and techniques

(6)

+
Trending Topics
Successful Agile sprints aren't about 10x developers or all-night testing sessions. It all comes down to how you plan. Here's how to plan sprints that run in an effective way.

SDLC

Evaluate

Should you use a quick-fix or closed-loop maintenance model for the software project on your development team's plate? What about iterative? Learn the benefits, use cases and limits of four common models.
Find Solutions For Your Project
Evaluate

Many software teams continue to use open source Jenkins for CI/CD, despite other platforms on the market. Here's how Jenkins fits what teams look for in CI/CD tools.

View All Evaluate

Problem Solve

Just because software passes functional tests doesn't mean it works. Dig into stress, load, endurance and other performance tests, and their prerequisites and requirements.

View All Problem Solve

Manage

Effective RPA QA ensures your bots don't go haywire. Learn how RPA bots fail, effective QA workflows to fix them, and how, when and where human testers should get involved.

View All Manage
Pro+

Software Quality Downloads View All
Software Quality Basics
Get Started

The best software documentation helps frame development projects and improve existing offerings. Learn the ins and outs of popular software documentation types and tools.

Get Started

Too much testing can make application code hard to read and remediate, let alone confuse both dev and QA teams. Use these test case design techniques for a higher-quality test suite.

Get Started

The Xray plugin makes test management easier within Jira. Follow along with this video tutorial to take some of the friction out of your test management process.
View All Get Started
Sections from across

SearchSoftwareQuality
Blog: Software Quality Insights
Salesforce recently joined the Linux Foundation's Continuous Delivery Foundation to help grow the CI/CD ecosystem. This move seems to have gone unnoticed by many, but two things stood out to me ...Continue Reading

GitHub has created a way to empower and financially compensate open source developers, and it could reshape the open source software development model – for better or worse. The version control ...Continue Reading