News
Stay informed about the latest enterprise technology news and product updates.
Agile in the large: Five must-read tips
The January theme for SearchSoftwareQuality has been "Large-scale Agile." It seems everyone is jumping on the Agile bandwagon, but is that bandwagon big enough to hold a very big team coding an enterprise application? Or will too many people weigh it down?

Download this free guide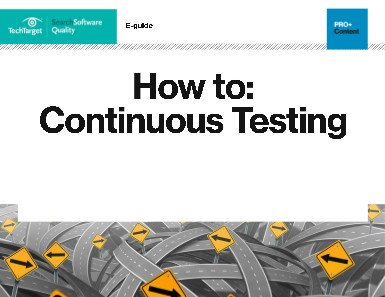 A developer's guide to continuous testing
The pace of application development has been increasing rapidly. Continuous testing is the only way to avoid bottlenecks. Download this PDF to introduce continuous testing in your organization.
Thought leaders are studying issues associated with large-scale Agile and banding together to come up with solutions. Check out these five recent titles from expert SSQ contributors and find out how to address the challenges that come along with large-scale Agile.
Keys for Agile development: Planning and team collaboration on large or small projects
Lisa Crispin offers advice on planning for agile in both big and small team environments.
Managing large Agile application lifecycle projects
Chris McMahon addresses issues of work flow in your ALM tool set for large development efforts.
Agile testing on large-scale projects
David W. Johnson discusses ways to maximize your testing return on investment in agile environments.
Best practices for mixing Agile and outsourcing
Nari Kannan gives advice on how outsourcing can be best managed in a large agile environment.
Large-scale Agile: Making the transition to Scrum
Matt Heusser recommends a step-by-step approach to transitioning to Scrum.