News
Stay informed about the latest enterprise technology news and product updates.
Automated test design: STARWEST 2010 preview
I recently got some pointers on automated test design and model-based testing — and some clarifications, too — from Antti Huima, CEO of Conformiq and software researcher, developer and educator. Huima will be giving a presentation at STARWEST this week on "Automated test design in Agile development environments."

Download this free guide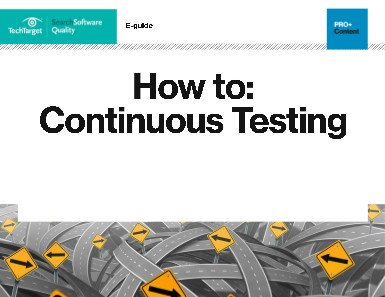 Instant Download: Your guide to introducing and maintaining continuous testing
The pace of application development has been increasing rapidly. Continuous testing is the only way to avoid bottlenecks. Download this PDF to introduce continuous testing in your organization.
By submitting your personal information, you agree that TechTarget and its partners may contact you regarding relevant content, products and special offers.
You also agree that your personal information may be transferred and processed in the United States, and that you have read and agree to the Terms of Use and the Privacy Policy.
Huima explained the distinction between test design and test execution in model-based testing. When automating test execution, test cases are written often in the native language of an application and executed automatically with results logged. However, automated test design — also referred to as "model-based testing" — is the automation of the creation of the test plans and test scripts using a modeling language. One of the benefits of using a modeling language allows for test cases and test scripts to be generated for a variety of platforms.
I asked Huima what was used as input for the modeling code. Requirements? Huima answered: "What you put into the model is like an abstract version of the correct behavior of the system."
"So who writes the modeling code?" I asked. "The developer? The architect?"
Huima pointed to the testing department, indicating that there is some advantage to have the tests designed independently from the programming team. "However, it's good to have some kind of programming background because the models are a kind of program," he added. More and more companies look for testers with a programming background, not just because of modeling, he said, because it has become the trend for testers to be more involved in automation of execution as well as design.
Huima's presentation is specifically about using ATD in agile development environments. "Is it used in traditional environments?" I asked.
"Sure, it can definitely be used in traditional development environments," Huima answered, indicating that that was really the norm, and that it was often those agile groups that use test driven development (TDD) that had more questions about how to use ATD in conjunction with TDD. He elaborated, saying:
"They think they have to model the whole system before they can get any tests out of a model-based testing tool. But this isn't actually the case. What we have found is that they can improve the test design productivity, especially in the context of interactive processes, by five-to-20 times. So it fits in with agility, and that's what I'm going to talk about [in my presentation]," said Huima.
Huima speaks on September 29 at STARWEST 2010, which takes place this week in San Diego, Calif.