News
Stay informed about the latest enterprise technology news and product updates.
Automation in ALM
It's a new month and with that, we have a new theme at SearchSoftwareQuality.com: Automation in ALM. Throughout the lifecycle, there are ways that project teams are automating their processes and their work to provide efficiency so they can focus on those tasks that require critical thinking.

Download this free guide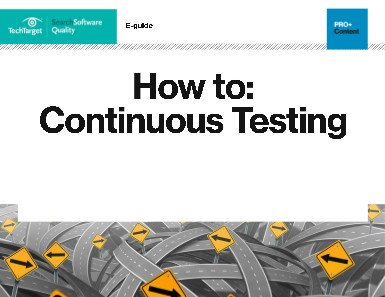 A developer's guide to continuous testing
The pace of application development has been increasing rapidly. Continuous testing is the only way to avoid bottlenecks. Download this PDF to introduce continuous testing in your organization.
I'm excited about our lineup for the month, starting with these three pieces we published this week about automation in ALM:
Test automation: When, how and how much
Test automation has often been touted as an important part of an organization's quality strategy. However, it's not a silver bullet. In this tip, consultant David Johnson describes important considerations in determining when to invest in test automation, how to implement the program, and how much of your application space should be automated.

UI Testing: Automated and Exploratory
Should user interface (UI) testing be automated or exploratory? In this tip, SSQ contributor Chris McMahon answers that both automated and exploratory testing can be used for UI testing, and what is most effective is using them together. McMahon explains when each type of testing is appropriate and how used together, they can complement one another to provide the most comprehensive UI test coverage.
Six Tips for Selecting Automated Test Tools for Agile Development
Software consultant Nari Kannan describes the differences between agile application lifecycle management tools and traditional lifecycle management software. Agile ALM tools are more tightly integrated, easier to use, support distributed teams and seamlessly integrate many of the traditional lifecycle management functions.