News
Stay informed about the latest enterprise technology news and product updates.
Can iRise, an enterprise visualization tool, aid business analysts?
The age old expression, "we are on two different pages" may no longer apply to analysts discussing application functionality with business stakeholders. It is a common problem in the software industry: an analyst attempts to describe the needs of business executives with documentation, ending with a product deployed by the development team that is completely different from what they'd envisioned. To that regard, there is another old saying that, "a picture is worth a 1000 words" but what is the value of a fully functional software model, containing all (or most of) a finalized software application's features?

Download this free guide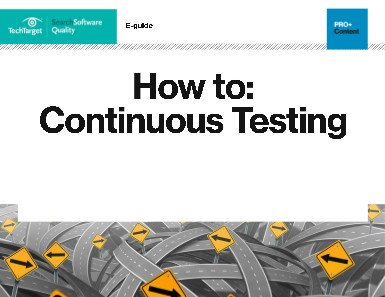 Instant Download: Your guide to introducing and maintaining continuous testing
The pace of application development has been increasing rapidly. Continuous testing is the only way to avoid bottlenecks. Download this PDF to introduce continuous testing in your organization.
This is exactly the type of situation iRise has built its business on: situations where complex answers just won't suffice and a visual representation is needed. iRise has been 200 Fortune 1000 companies' choice for analysts. This figure includes the likes of General Motors, Fedex, UPS and 197 other big companies. In addition they have another 200 customers in their client base of varying company sizes.
To cater to a growing need for visualization before builds, iRise software, has recently added new features and functionality to their tooling for software business analyst's use. These features are available in iRise 8 and include drag and drop, content modules, API plug-ins and more.
The idea of visualization for software apps came from a slew of identified issues in software board rooms and a need to solve problems before an application is fully constructed. "We designed this as an answer to the confusion of business stakeholder's — people heavily embedded in the finances of companies. These people will often approve ideas that sound promising and then when they see the end result they are perplexed, it just wasn't what they had in mind. Then come the changes, making changes in a fully coded piece of software can be expensive and risky — if you change one thing, chances are you'll be required to change a lot more" says Mitch Bishop CMO for iRise.
iRise software is very similar to what Computer Aided Design (CAD) was for various things in the 1980's and 1990's, except this time the idea has been applied to software applications. Now stakeholder's can see what to expect from a proposed application before the time, money and effort has been spent developing and testing.
According to the company the next "big thing" in software application visualization for iRise will be predesigned templates. Built and functional templates that will be the basis of available features according to industry demand. Basically if you or your company wants to have an application visualized before building and you want an eCommerce feature built in, you can purchase that feature from iRise and drag and drop it into your application interface.
For more on iRise visit their website, http://www.irise.com/ and check out this blog on our sister site Enterprise Visualization: from requirements to specification.