News
Stay informed about the latest enterprise technology news and product updates.
Crowdsource specialist uTest launching new performance, load test offerings
uTest, known for their crowdsourced approach to functional testing, is adding load and performance testing to their offerings. SearchSoftwareQuality got wind of uTest's news, to be formally announced on Wednesday, February 24, and spoke with Vice President of Marketing and Community Matt Johnston. "We'll be offering three flavors to our customers: Live Load, Simulated Load, and Hybrid Load," said Johnston.

Download this free guide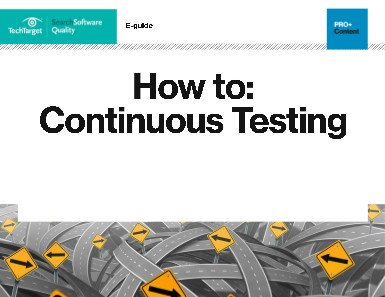 A developer's guide to continuous testing
The pace of application development has been increasing rapidly. Continuous testing is the only way to avoid bottlenecks. Download this PDF to introduce continuous testing in your organization.
Johnston explained that Live Load would entail coordinating with their global team of testers to simultaneously test the system. Simulated Load will use test tools designed to simulate load on a system. Hybrid Load, will do both: use tools to simulate a load using the test tools, while testers are simultaneously performing functional test.
"There are certain bugs that only reveal themselves while your application is under load," Johnston explained. Applications that use flash or streaming video, for example, need to be checked for quality of audio and video while the application is experiencing heavy traffic.
Currently these performance test offerings are primarily for Web-based applications because that's where there is greatest demand, but uTest is willing to dig in and customize performance test efforts for customers with other needs. At some point, Johnston thinks there might be additional interest in the mobile market as it continues to mature, but right now Web-based performance test is their biggest market.
The competitors in the performance test arena are not other groups that offer crowdsource services, but the vendors and consultants that specialize in performance test tools, such as HP's LoadRunner, according to Johnston. How uTest differs from consultants that specialize in certain tools is that, thanks to the uTest crowdsource model, they have access to a vast array of test tools and performance test experts.
"uTest has over 23,000 testers spread across 163 countries," Johnston told us. Being a uTest member myself, I reminded Johnston that many of the 23,000 testers were inactive, and Johnston agreed. In any online community the typical makeup is 90 percent inactive ("lurkers"), nine percent active and one percent hyperactive. With uTest, Johnston said the spread is more like 70 percent inactive, 27 percent active and three percent hyperactive, so uTest is a more active community than most.
All uTest testers fill out a personal profile with information about their skill sets, locations and the technologies and tools to which they have access. This information helps uTest match people with the right skillset to the clients. Again, being a member myself — albeit a self-proclaimed "lurker" — I can well attest to uTest's active community. Even though I rarely sign up to test, I have found the site one that actively encourages networking and professional development.
I asked Johnston about the pricing model for performance test, knowing that when I was a performance test manager at Sun, LoadRunner consultants were very expensive. Johnston said that the price will vary depending on the client's needs. Though they follow the market and will charge more for expertise in the competitively-priced tools, overall, using uTest will give the client a cost advantage. Due to the wide array of testers, skills, and tools available, there is flexibility in what can be done and the client isn't locked in to any high-priced contracts.
uTest CEO, Doron Reuveni, will be presenting at the upcoming StarEast conference on April 29th. My SSQ colleague, Dan Mondello, and I will be at the conference and plan to talk to Reuveni and more with Johnston there. So, stay tuned for more news and information on crowdsource testing.