News
Stay informed about the latest enterprise technology news and product updates.
Daptiv combines traditional and Agile in PPM solution
On April 5th, Daptiv announced the integration of Rally Software with their PPM solution. Project portfolio management (PPM) tracks an organization's projects so that executives are able to make decisions about company goals, strategies and spending. However, many companies have a variety of software projects using different methodologies and different project management tools and metrics. It can be a challenge to merge those metrics to obtain an overall report of organizational health.

Download this free guide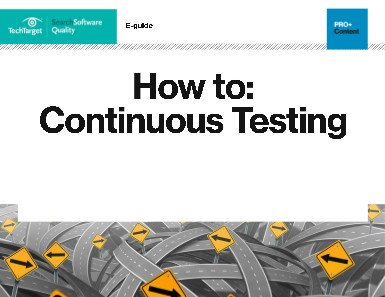 A developer's guide to continuous testing
The pace of application development has been increasing rapidly. Continuous testing is the only way to avoid bottlenecks. Download this PDF to introduce continuous testing in your organization.
I spoke with Ian Knox, VP of Marketing at Daptiv, about the announcement. He described five primary metrics that all software development projects should track, regardless of methodology being used:
* Scheduled finish date
* Percentage complete
* Scope change
* Cost vs. budget
* Project health
The issue, of course, is that traditional teams track these metrics differently than Agile teams. "The unit of progress in Agile is a story point, whereas with a traditional waterfall it's reaching a milestone or how many task hours you have completed. The underlying metrics are very different," said Knox describing one example.
Because many PPM tools don't have the ability to combine metrics from Agile projects, those projects may be lacking in visibility at the executive level. "When you have a certain number of Agile projects, it makes sense to integrate into a single source of truth for executive portfolio reporting," said Knox.
Knox stressed that the integration would not impact developers working with Rally. They would continue to do so with no changes required to their Agile practices. "The development team needs to be left alone. Problems happen when project managers try to impose traditional project management reporting on an Agile team and it totally breaks the culture. Our goal with this is to allow the development team to run exactly as they want to with their Agile culture and Agile methodology and then the data is pulled data out of Rally to allow for executive visibility."
Forrester analyst Dave West says of the announcement:
"We do see a trend of PPM vendors either integrating with ALM tools or building out functionality to support more the management of development projects. The fundamental issue is that planning and management reporting benefits from real development information that ALM tools collect. By injecting the planning information into the development space, it is possible to consistently work within the projects. With the advent of Agile practices, it is clear that planning and development must have a tighter relationship, as planning happens more frequently and status reporting needs to include real time information. It is great that Daptiv is working with a leading Agile tool such as Rally."