News
Stay informed about the latest enterprise technology news and product updates.
Follow SearchSoftwareQuality on Facebook and Twitter
For most of you in the software development space, and for me in choosing online software journalism as a career, there is a tremendous amount of our time spent in front of computers and online. If you are like me, being on your computer and having Facebook open are synonmous with one another. Few could argue that Facebook and its legions of followers, friends and groups are replacing numerous aspects of what was once everyday life. The newspaper, mail, telephone, address books, valentine's day cards and basic phone calls have all found themselves in social networking's crosshairs.

Download this free guide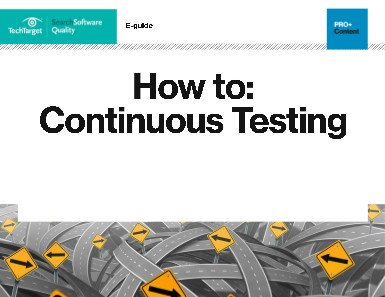 A developer's guide to continuous testing
The pace of application development has been increasing rapidly. Continuous testing is the only way to avoid bottlenecks. Download this PDF to introduce continuous testing in your organization.
That being the case, we would be foolish not to ride the Web 2.0 wave–so we have. SearchSoftwareQuality is now on Facebook. And while you may already be a daily reader of SearchSoftwareQuality.com, let me assure that there are many fantastic reasons to "friend" us.
Think of SearchSoftwareQuality's Facebook profile as quick way to get daily updates on what is happening in your career, the software industry and cyberspace in general. We update our Facebook profile often, providing you with teasers and links to important software quality and testing stories (which are archived in the "Notes" portion of the page). We have a video library set up that will be updated LIVE from conferences and software venues–finally you'll get up to the minute video coverage of the conference you weren't able to expense through your company.
We are hoping that our presence on Facebook might also open up the communication flood gates that have remained fairly restricted on our other media channels. As our friend, we warmly welcome you to ask questions, submit software tips, "like" certain content and not hold back on telling us what you didn't like. Communication with us on Facebook might be the ticket you need to have your company, application problem or solution story heard across our vast fanbase and readership.
To "friend" us type "SearchSoftware Quality" in the search bar on Facebook and prepare yourself for a wealth of incoming software information that matters to you.
If Twitter is your thing, we're there, too! Our content will automatically be tweeted, so that you'll be able to see the latest information, as soon as it's available. Follow us at @softwaretesttt
TechTarget:Where Serious Technology Buyers Decide