News
Stay informed about the latest enterprise technology news and product updates.
Freelance opportunities for QA and software test professionals
It's no secret that there are a lot of people unemployed these days. However, if you have access to the Internet, there are plenty of opportunities to hone your technology skills, gain additional experience and even earn some cash while you're at it.

Download this free guide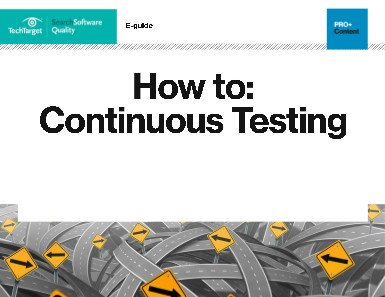 A developer's guide to continuous testing
The pace of application development has been increasing rapidly. Continuous testing is the only way to avoid bottlenecks. Download this PDF to introduce continuous testing in your organization.
One community I joined myself a year or so ago is uTest, an organization that facilitates crowdsource testing. When you join the uTest community, you fill out a questionnaire, indicating the skills you currently have as well as the hardware and software that you have available. From there, you are sent information about applications that are a good fit and are in need of testers. There is plenty of information about how to collaborate with the team that is testing the application and how to submit bugs, which, if valid, will earn you a little money.
However, beyond the money-making opportunities, there is that added benefit of being able to learn and grow testing and technology skills. There are discussions, webcasts, links and information about the abundance of free resources available for those in the QA and software test profession. It's nice that you can join this community and benefit, and only work when you have availability.
Another site that freelancers might want to check out is Elance. The Elance home page lists categories of freelance opportunities for Programmers, Designers, Writers, Marketers, Admins and Consultants. Under Programmers, are several sub-categories, including QA. When I clicked the link I was brought to a page listing the first 25 of 5,654 results for QA freelance jobs! Job-seekers are able to submit a proposal to the clients who have listed and negotiate a deal.
Just for grins, I checked what was necessary to sign up. It appears there is a free subscription which will allow you to connect with up to 10 clients, take up to five skills tests that will help get you noticed with potential employers, give you a virtual workroom and manage the billing and payment system between you and the employer. There are upgraded plans that will give you additional benefits.
There are other freelance groups out there as well. Of course, to be a strong tester, most employers will want to see technology skills in the areas you are testing, so it's best to make sure you are staying current in programming and Web development skills. Pick some technologies in which you want to excel and gain as much expertise as you can through self-study and hands-on application. Then target freelance opportunities in those areas and start building your portfolio. Before you know it, you'll have more work than you can handle.