News
Stay informed about the latest enterprise technology news and product updates.
How do job-seekers gain Agile skills?
As a recent job-seeker, I'm well aware that it's a tough market out there. Employers can afford to be picky and many of them are looking for software quality professionals with years of agile experience. If you've always worked in a traditional software environment, are your skills obsolete? How can you get experience in an agile environment if you can't get a job? And what are "agile" skills anyway? Aren't the skills that testers gain from working in a traditional environment transferable to an agile environment? What exactly are these skills that employers are looking for?

Download this free guide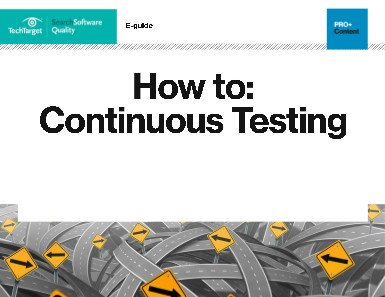 A developer's guide to continuous testing
The pace of application development has been increasing rapidly. Continuous testing is the only way to avoid bottlenecks. Download this PDF to introduce continuous testing in your organization.
These are some of the questions I asked Lisa Crispin in a recent podcast, as we were discussing the first chapter of "Agile Testing: A Practical Guide for Testers and Agile Teams" co-authored by Crispin and Janet Gregory.
I won't repeat what you can listen to in the podcast, but Lisa and I stayed on the phone and chatted for another 30 minutes about the job market and ways that job seekers can better their skills. Crispin and I are both firm believers in professional development. There are so many opportunities, thanks to the Web, for job-seekers to continue to grow and learn. Not only is there an abundance of free tutorials, white-papers, and technical content available, there are open source tools galore!
Crispin said she was surprised by the number of people that she's interviewed that were not engaged in professional development activities. She said that she was most interested in those candidates that showed active interest in learning and growing and that there are plenty of learning opportunities and ways to experience agile outside of a work environment.
If this is a trend amongst employers, then job-seekers are in luck. Again, there is no shortage of learning opportunities available on the Web, including on our own SearchSoftwareQuality.com. Stay tuned as we continue to update our agile learning guide with new content and additional podcasts from industry experts. Whether you're a job-seeker or happily employed, the industry continues to change and grow. The key is to never stop learning!