News
Stay informed about the latest enterprise technology news and product updates.
How software test teams' people skills affect results
I wasn't always the brilliant, charismatic, well-loved tester that I am today. Well, I'm not really any of those things today, but I often like to think I am. That's my problem. Sometimes my ego gets in the way of my best work. I'm also susceptible to all the bad behaviors that come with tight deadlines, layoffs and work I don't particularly like. Like everyone else, I can let stress tax my professional relationships.

Download this free guide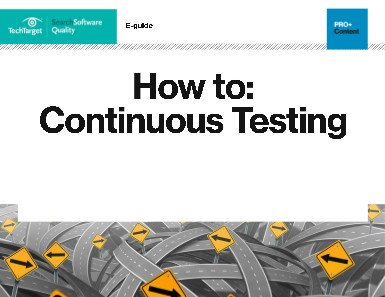 A developer's guide to continuous testing
The pace of application development has been increasing rapidly. Continuous testing is the only way to avoid bottlenecks. Download this PDF to introduce continuous testing in your organization.
Karen Johnson will be tackling this problem head on during her talk — titled "Building Alliances" — at the Pacific Northwest Software Quality Conference (PNSQC), which takes place Oct 26-28, 2009 in Portland Oregon. Karen will look at how to create and foster successful professional relationships with teams and people. That means not just fostering a collaborative spirit, but also looking for ways that teams can look out for each other and work together.
"The talk focuses on building healthy relationships at work," Johnson told me recently. "In theory we have a relationship with everyone we work with, at least at some level. But how many relationships do you have on your team or at your company that you can count on when the going gets tough? The answer is usually a handful of carefully maintained alliances. Those alliances are the solid dependable work relationships my talk is focused on. How do those alliances get built? And how are those relationships maintained?"
Karen Johnson is an independent software test consultant and has been involved in software testing for more than two decades. She has extensive test management experience, and her work often focuses on strategic planning. A frequent speaker at major conferences, she has published numerous articles and recorded webcasts on software testing, many of them here on SearchSoftwareQuality.com. She is also a contributing author to "Beautiful Testing," a O'Reilly book coming out later this year.
Most recently, Johnson's focus has been on developing a sense of community for software testers working in the area of regulated software testing. She's been studying office politics and how they affect people. In her PNSQC session, she'll reveal her finding on positive practices of healthy, functioning teams and how those practices build good, collaborative relationships.
"I find it interesting that sometimes people in our software testing community recollect with horror painful people events that have taken place from their past work experiences," she said. "And sometimes people talk about successful alliances at work and people they've been able to depend on. But what I haven't heard people talk about is how to go about creating those healthy relationships. After a number of years of working in a variety of companies, I have a collection of positive and negative experiences. My talk draws from both.

"I don't like politics. I'm not especially good at them and earlier in my career, I figured I could avoid politics altogether. Once I became a test manager, I realized, I couldn't avoid politics. Much of what I wanted to say and plan to say, comes from my experiences, my stories and from my heart of what I've learned."
In typical Karen Johnson style, her talk will also be well referenced. Karen told me that in addition to her own experiences, the talk also draws on the work of others. "There is an amazing amount of material on the topic," said Karen. "These references are especially good reads…"
Clearly, her talk is not focused on the technical aspects of software development. It's about people. For those who might not feel topics like this are important, Karen offers the following:
"Let me offer this thought: One of the skills I've focused on acquiring and sharpening over the years is being observant. When I test software, I'm making observations. When I work with people, I use my observation skills to notice relationships and dynamics. I need to be able to observe changes with people and teams in order to get work done. It's not just the raw technical skills that get the job done.

"If you want to test software and quietly report defects, I suppose technical skills might be enough. If you want to be someone who has influence to improve a product, you have to be able to work with people. I think it makes sense to have talks at our testing conferences that address people topics."
Karen will also be teaching a full day tutorial on SQL at PNSQC. The class is a more advanced class focused primarily on joins and queries. For more on the upcoming show, check out the PNSQC website. You can also learn more on Karen Johnson's website, Testing Reflections blog or by checking out some of her Expert Responses and Tips on SearchSoftwareQuality.com.