News
Stay informed about the latest enterprise technology news and product updates.
IBM Innovate: Dean Kamen inspires crowd to give back to community
Though there have been many great speakers at the IBM Innovate conference this week, I'd give Dean Kamen, who spoke at this morning's keynote, the prize for being the most inspirational. Kamen is the owner of a company called DEKA, credited with a number of life-changing inventions, many in the health-care field, including an insulin pump, a mobile dialysis machine, and the iBOT — an all-terrain wheelchair that will allow owners to go up and down stairs and rise up so that they can be eye-level with those who are standing. (It was technology from the iBOT, by the way, that was used in an invention which Kamen is probably best known for — the Segway.) Kamen also spoke of the advanced prosthetic arm that DEKA developed, with funding from The Defense Advanced Research Projects Agency (DARPA), for veterans, some of whom have lost both arms.

Download this free guide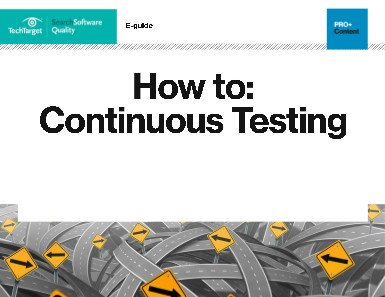 A developer's guide to continuous testing
The pace of application development has been increasing rapidly. Continuous testing is the only way to avoid bottlenecks. Download this PDF to introduce continuous testing in your organization.
Kamen stressed the amount of software included in devices and joked that when dealing with medical products, you can't afford to get The Blue Screen of Death! The importance of software quality is underscored in medical devices and quality of embedded software and "systems of systems" has been a common theme throughout the conference this week.
Kamen had a very humble demeanor as he described his hopes for a better world. He gets a laugh from the crowd in this video clip as he tells us "In my company, if I want people to listen to me speak, I have to pay them."
Kamen described projects to purify water and provide power to under-developed communities. What he seemed most passionate about was his commitment to FIRST(For Inspiration and Recognition of Science and Technology), an organization which encourages the worlds' youth, particularly girls and minorities, to pursue education in science and education. Kamen described the history of FIRST, telling us it started with the need to have a "Shaquille O'Neal of science and technology" rather than having kids think of those who like science as crazy frizzy-haired nerds. With support from the White House, the program started in 1992 in a New Hampshire gym. When it got too big for the gym, the venue was moved to Epcot, from there to the Houston Astrodome and now is held in the Georgia Dome with participation from over 150,000 kids from around the world. Kamen relays the story of George W. Bush proclaiming, much to Kamen's embarrassment, "This is just like WWF, but for smart people." The saying caught on, and turned out to be fantastic marketing slogan for the organization.
Kamen reminded us of a quote by William Butler Yeats: "Education is not filling a pail… it is lighting a fire."
His talk ended with a plea to the group, " The technical community has to have a voice in the hearts and minds of kids."
Based on the applause and standing ovation, I'd say he touched the hearts and minds of the audience and inspired us to find ways that we can help our kids develop the skills to better the world.