Evaluate
Weigh the pros and cons of technologies, products and projects you are considering.
Is your software automation testing framework working?
When it comes to software testing automation, it seems we all still have a long way to go. A look at a new survey from Logigear looks at the state of your software automation testing framework, and all that surrounds it, and it's easy to understand why everyone struggles.

Download this free guide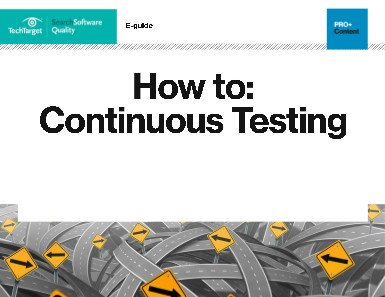 A developer's guide to continuous testing
The pace of application development has been increasing rapidly. Continuous testing is the only way to avoid bottlenecks. Download this PDF to introduce continuous testing in your organization.
First, just 56% said their organization had all the skills to automate, and 34% said their teams only had some of the skills. In fact that same percentage (34%) said lack of skills was the number one reason preventing them from implementing a successful software automation testing framework. Other barriers include overall cost (32%), management doesn't understand (31%), and the high price of tools (also 31%).
Interestingly, 38% of the survey respondents rolled out a software automation testing framework that failed, but they moved past that and now have an ongoing automation program. On the other hand 25% tried, failed, tried again and still did not succeed. An impressive 19% said they were able to initiate a software automation testing framework that worked the first time.
When asked to describe automated testing efforts, the most popular answer, at 19%, was that it eliminates repetitive tasks so time can be spent doing more interesting/important exploratory testing. And at least some companies are starting to appreciate how a software automation testing framework can improve things: 14% said it was a "very effective" part of the test process.
Logigear also asked companies how they measure whether testing works. A hefty 67% said it was by time saved, followed by number of functions automated (38%) and bugs found (34%).
To improve automation efforts going forward, 53% said they needed to make them more maintainable, while 38% wanted to add new functions or tests more quickly and 35% simply wanted to run automated tests more quickly.
How do these stats compare to your own software automation testing framework? Let us know.