News
Stay informed about the latest enterprise technology news and product updates.
Lee Copeland talks trends at SQuAD conference
Thursday's keynote at last week's SQuAD (Software Quality Association of Denver) conference was delivered by well-known industry leader, Lee Copeland. The theme of the conference was Testing Concepts and Innovations and Copeland kept that in mind with his presentation titled, Today's Testing Innovations.

Download this free guide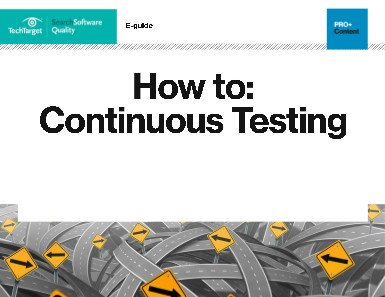 A developer's guide to continuous testing
The pace of application development has been increasing rapidly. Continuous testing is the only way to avoid bottlenecks. Download this PDF to introduce continuous testing in your organization.
Copeland described innovations in five key areas: Process, Agile, Education, Technology & Tools and Process Improvements.
He started by talking about the "context-driven" school in which it is understood that testers provide a service that would be effective for their particular project. Different test teams will have different missions. With this school of thought, there are no "best practices." What may be a best practice in one context, may not be best in another. "We get to use our brains," Copeland exclaimed, encouraging testers to figure out their own best practices given the context. "What is the most effective practice right now in this situation?"
In talking about exploratory testing, Copeland quoted James Bach as saying, "The classical approach to test design is like playing 20-questions by writing out all the questions in advance." Copeland demonstrated by putting the audience through a round of 20-questions. The audience asked questions. "Animal?" No. "Vegetable?" Yes. "Green?" Yes. After about ten questions the audience figured out what he was thinking of: Spinach.
However, it was in using the answers already given that the audience was able to narrow down so quickly what was in Copeland's head. If the audience were to just write out a bunch of questions first, without hearing any answers, it's highly unlikely that anyone would have figured out what Copeland had been thinking.
Similarly, when we plan all our tests up front, as often is done with the "classical approach," we don't have the benefit of using our findings to help us dig deeper. With exploratory testing, we rely on the knowledge we gain from each test and are able to continue to narrow down our focus to discover the problem areas in an application.
Copeland was inspiring as he encouraged the audience to continue to learn and grow in the field and to use the many resources (such as SearchSoftwareQuality.com!) that are available.