News
Stay informed about the latest enterprise technology news and product updates.
Mobile testing strategies
Mobile application development is undeniably a hot and growing market and with it comes new challenges for the test community. This month, SSQ is focusing on mobility testing with a series of tips and stories covering everything from determining scope for your mobile test efforts to implementing an automated test strategy.

Download this free guide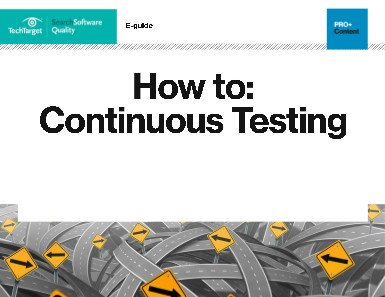 A developer's guide to continuous testing
The pace of application development has been increasing rapidly. Continuous testing is the only way to avoid bottlenecks. Download this PDF to introduce continuous testing in your organization.
We started the month with a series from DeveloperTown's Rick Grey who was tasked with creating a mobile applicaton test strategy in a resource-constrained environment. Grey reminds us that risk and mission criticality need to be taken into account when determining scope and creating a strategy. In the situation he describes, there was not a need for a highly available mobile application since the functionality was available through a website. Additionally, security risks were low. This allowed for a different approach than one in which availability and security are greater risks.
Be sure and check out his series and other recent mobility test coverage by reading the tips below:
Mobility application testing: Mobile devices on a budget
Mobile application testing: Cost effective strategies
Mobile Web applications: Monitoring test triggers
Mobile testing: Nine strategy tests you'll want to perform