News
Stay informed about the latest enterprise technology news and product updates.
Networking your way to QA expertise
Ah! I love that feeling of starting fresh. New year. New job. I started last week as the site editor for SearchSoftwareQuality.com at TechTarget, and I absolutely love the job. How did I get it? I was blogging about QA and networking with a lot of industry leaders, including Matt Heusser, a regular contributor for SearchSoftwareQuality. When there was an opening for the site editor position, Matt recommended me, and a few interviews later, here I am!

Download this free guide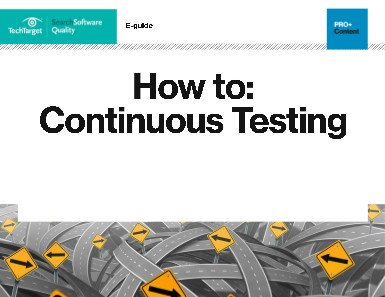 A developer's guide to continuous testing
The pace of application development has been increasing rapidly. Continuous testing is the only way to avoid bottlenecks. Download this PDF to introduce continuous testing in your organization.
I couldn't have gotten this job without what I think of as "intelligent networking." Networking isn't just about meeting people. It's about learning who's who in your field. It's about engaging in discussions. It's about stepping out of your comfort zone and taking risks, realizing there's a lot you don't know, but not being afraid to learn. It's about sharing what you learn and doing your part in connecting others.
From zero to hero
It was actually in 2002, when I was offered a QA management position, that I discovered the power of networking. I wasn't a QA expert. I'd been in software development my whole career. And though as a developer, my share of testing was expected and required, I can't say I really relished that phase of the cycle. Once I became a software development manager at Sun, realizing that developers aren't always the best testers, I hired a couple of QA people. There wasn't a formal QA organization in IT and so each development team was kind of stuck with whatever QA and test their team wanted to do, which typically wasn't much. I suppose the vice president was impressed that I'd cared enough about quality to spend headcount on dedicated QA professionals, because the next thing I knew he asked me to head up a brand new QA organization. I almost said, "No way! I know nothing about QA!" Luckily, I had my brains audio setting on mute, so all my VP saw was a rather blank stare. "You can do this," my inner-superhero voice told me. "You're a manager. You dont actually have to do the work."
So a reorg took place. I left my familiar role in software development to head up this brand new QA organization, even though I knew virtually nothing about QA. How in the heck was I supposed to learn? Here's where it got fun.
I started networking with the people who were experts. Even though it was back in the old days of '02 –before anyone Tweeted or wrote stuff on FaceBook walls — there still were online forums and groups. I formed a new QA community at Sun, inviting all those who were practicing QA, and then put out an all-points bulletin: "New QA Manager needs HELP!"
Well, the help came. Before I knew it, I had pointers to templates, books, articles and tools. Any time I'd ask a question, there were multiple people that would come to my rescue with a variety of answers and resources. I made friends with these gurus and figured out who had expertise in what specialty. It didn't take long before I'd collected enough information that I was the one who could come up with the answers when a newbie would pop in. I organized a conference, inviting experts to speak about their area of expertise. I learned from my staff as well — those brilliant people that were able to apply all this knowledge we were acquiring.
I soon became part of this elite crowd, referred to as "QA expert" myself! Even though I had no formal training in QA, my name soon became recognized in QA circles as a "go-to person." I was welcomed for my willingness to learn, collaborate and connect people. And I was rewarded by having the highest- performing team I'd ever managed. This was a big lesson for me. Respect and credibility is acquired not by just what you know, but who you know and how you interact with them. None of us have all the answers! If we think we do, were less willing to go out and learn. It was because I started out knowing so little that I ended up learning so much. And because the world — especially the world of technology — is always changing, this process is never-ending. Learning is a continual process.
Take advantage of the internet
Fast forward to 2010. There are so many ways of finding like-minded people to network with that it can be absolutely overwhelming! Clearly, if you're reading this, you've already found an incredible resource. I'm amazed at the vast wealth of knowledge and information that's available to us via the TechTarget sites. The IT Knowledge Exchange is a great place to ask questions or show off your technical expertise by answering questions. And if reading, learning, participating and networking isn't enough, you even get to earn points towards prizes! (When I'm on a Website that offers points, I'm like a gambler in Vegas. I can't get enough.)
Take advantage of all IT Knowledge Exchange and SearchSoftwareQuality.com offers. Immerse yourself in webinars and whitepapers. Engage! Get to know the people that share your interests. Get to know the experts. When you do, you'll find out that one day, without even realizing it, you will have become an expert yourself.