News
Stay informed about the latest enterprise technology news and product updates.
Overcoming business challenges with requirements management
Requirements management has been said to be the most challenging part of software development, often because of miscommunication between the business owners and the development team. This month SearchSoftwareQuality has been providing a series of tips on improving cross-organizational communication and collaboration so that requirements are clear and tracked throughout the application lifecycle.

Download this free guide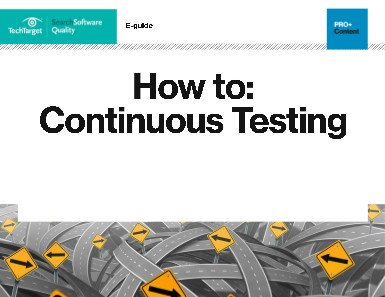 A developer's guide to continuous testing
The pace of application development has been increasing rapidly. Continuous testing is the only way to avoid bottlenecks. Download this PDF to introduce continuous testing in your organization.
Trends in ALM: Requirements management tools
In this interview with Forrester analyst Mary Gerush, we hear about five important ALM trends in requirements management tools and explore questions organizations may want to consider when selecting a requirements management tool.

Seven steps for tracking requirements throughout a software release
In this article, Kay Diller shows you in seven simple steps how to develop, document, track and test business requirements throughout a release.
Business requirements: Five steps to exceed business expectations
Kay Diller explains five ideas to help business partners and developers work together to ensure a release that is not only acceptable, but exceeds everyone's expectations.
Requirements tips for data-centric projects
In this tip, requirements expert Sue Burk describes strategies for working with the business to understand data usage with detailed scenarios, allowing your data-centric projects to be designed right the first time.