News
Stay informed about the latest enterprise technology news and product updates.
Performance test tool announcements
This month, SSQ has been focusing on application performance management (APM) with a variety of articles and tips on the topic. But as performance test trainer and coach Scott Barber says, "Performance testing just ain't easy."

Download this free guide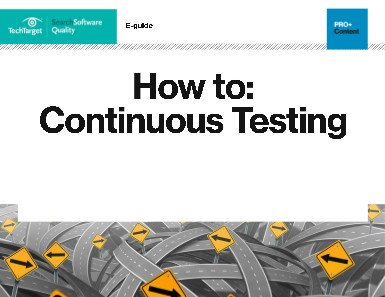 A developer's guide to continuous testing
The pace of application development has been increasing rapidly. Continuous testing is the only way to avoid bottlenecks. Download this PDF to introduce continuous testing in your organization.
Barber is an early adopter and supporter of SOASTA's new CloudTest Lite product, allowing engineers to code and debug their performance tests using the lightweight, free version of their CloudTest product.
Two other recent announcements in the performance test tool arena are from vendors Aternity and Reflective Solutions (StressTester).
On May 24, Aternity announced a major upgrade to its Frontline Performance Intelligence Platform, a tool which provides a view of client-side APM and monitoring from the desktop vantage point. Aternity is known for "end user experience management" in the health care IT industry and helps provide and improve "meaningful use" of EHR (Employee Health Record) applications, allowing health care providers qualification for ARRA benefits. Will Weider, Chief Information Officer (CIO) of Ministry Health, explained:
"Gaining visibility into our end user's EHR experience is key to achieving solid clinician adoption. That is why we chose Aternity. When we do have end user issues, we can demonstrate progress and not be hindered by a user perception that often trails reality, "
Reflective Solution's StressTester, a tool popular in Europe, is touted as a full-function performance test tool which does not require scripting. I asked independent performance test consultant Alex Smith how this is possible. Smith answered:
"Indeed, like all tools it simulates virtual users to generate load. In a more traditional test tool, the script tells the tool which request to make next and contains the logic to make the simulated transactions realistic, for example handling session variables, parameterising the data sent to the application being tested, checking the responses from the application are correct, varying the route through the transaction (often as a reaction to a previous application response), etc. StressTester allows all of this, and everything else needed to correctly simulate real world users, to be configured through a comprehensive GUI. Instead of coding how to execute a transaction, the tester specifies what should happen and StressTester deals with the 'how'."
For more on APM, check out our two recent tips:
Improving software performance: Mobile, cloud computing demand APM