News
Stay informed about the latest enterprise technology news and product updates.
Software methodologies: Are we still at "war"?
The most popular blog post on SQI for the year has been: Methodology wars: Agile or Waterfall? Most people still take software methodology very seriously and can get quite vocal about the benefits of using a particular methodology or quite defensive when questioned about some of the pitfalls. I've heard words such as "zealots" and "cult mentality" bandied around describing people who feel strongly about a particular methodology. But what exactly are the differences?

Download this free guide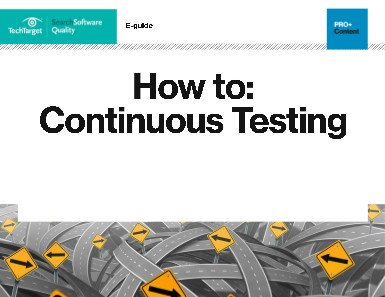 A developer's guide to continuous testing
The pace of application development has been increasing rapidly. Continuous testing is the only way to avoid bottlenecks. Download this PDF to introduce continuous testing in your organization.
This month SSQ is focusing on software methodologies, bringing to you a variety of articles that will help you determine which methodology might be best for your organization.
In Waterfall or Agile: Differences between predictive and adaptive software methodologies, David Johnson highlights the differences between a predictive waterfall approach versus the adaptive agile approach to software development.
And in Applying lean concepts to software development, Matt Heusser describes practices that originated in manufacturing that are becoming more popular in software development such as the concepts of flow and continuous work.
Whether your software development processes are predictive, adaptive, lean or maybe use a mixture of concepts from various methodologies, your answer is not the one and only "right" way to develop code. What's most important is that it is right for your organization.