News
Stay informed about the latest enterprise technology news and product updates.
Software requirements management tool Contour adds collaboration
Last week, software requirements management vendor Jama added collaboration features to their Contour product. Jama CEO Eric Winquest says Contour 3.0 adds features which will allow teams to stay more connected, be informed of changes and communicate more effectively. Winquest talked about the growing complexity of software and the many tools and processes that are available. However, he stressed the importance of the communication of the project team.

Download this free guide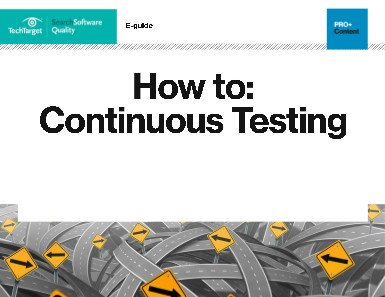 A developer's guide to continuous testing
The pace of application development has been increasing rapidly. Continuous testing is the only way to avoid bottlenecks. Download this PDF to introduce continuous testing in your organization.
"At the end of the day, it's not really the tools and methodologies that get projects done, it's really the people. We believe it's the human interactions that are missing from enterprise software tools."
In my recent tip, Collaboration tools: Communication trends in ALM, I write about how collaboration in ALM tools is a growing trend in the industry. With distributed teams, collaborative features allow teams to have stronger communication, better change management, and better ability to store and archive all kinds of data and documentation and keep that documentation up-to-date.
Mace Volzing, software development manager at IntraPace, used Contour to help manage the requirements for IntraPace's abiliti device– a medical device with embedded sofware used to help obese patients manage their eating habits. Volzing found the tracability features of Contour invaluable and necessary when doing development for a medical device.
"Each project has documents that are interrelated. All of them link together through Contour, which is incredible when you go to do any kind of maintenance later or any kind of change request later on."
IntraPace used a waterfall methodology to develop the firmware for the abiliti device. However, web software is also under development that will allow for social networking among the patients using the device. For this, Interpace is using a Scrum methodology with success. Volzing believes that for the next release of firmware, they may use a hybrid approach. However, regardless of methodology, they've found that Contour is easy to use, providing the needed functionality to document and track their requirements throughout the lifecycle.
Volzing said they are looking forward to the upgrade to Contour and having the additional collaboration features in place.