News
Stay informed about the latest enterprise technology news and product updates.
Three vendors gather under umbrella to provide automation products
Announced July 19, vendors: AutomatedQA, Pragmatic Software and SmartBear, have joined forces and rebranded under one name, "SmartBear Software". All three of these companies have a 10 year history in software, each with its own specialty in automated testing and software development tooling. Now under the one umbrella, SmartBear plans to offer a variety of cost-effective solutions to common testing dilemmas and software production aids to improve overall software quality.

Download this free guide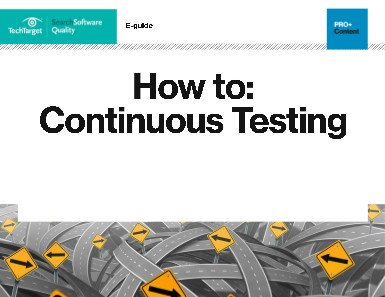 A developer's guide to continuous testing
The pace of application development has been increasing rapidly. Continuous testing is the only way to avoid bottlenecks. Download this PDF to introduce continuous testing in your organization.
This single brand will feature tooling that will incorporate the specialties of all three vendors for a slew of new and rehashed offerings. These products are free to try, test and develop with, affordable to buy and come with full support from SmartBear. The automated testing tools are focused on regression and functional, Web, manual and data-driven testing and are designed for use throughout software organizations. Its development lineup has a tool designed to work in each aspect of the SDLC that allow for online, peer review, collaborative efforts and management.