News
Stay informed about the latest enterprise technology news and product updates.
Traits of good software testers
I read a post this week on the Software, Technology and More blog about the four unlikely traits of good developers. And some of the traits the writer describes — creativity, curiosity, finding fault with almost everything, working hard to facilitate laziness — seem to match the traits of a good software tester.

Download this free guide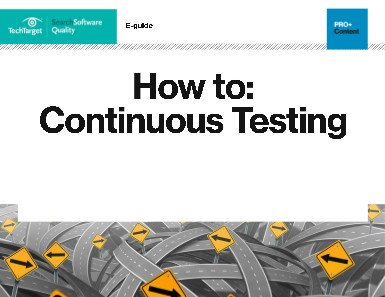 A developer's guide to continuous testing
The pace of application development has been increasing rapidly. Continuous testing is the only way to avoid bottlenecks. Download this PDF to introduce continuous testing in your organization.
Creativity – Creativity is absolutely a trait of a good software tester. Testers need to think beyond what is expected of the software and its users and think about how users will misuse the software or do things that are not spelled out in the requirements. There's always one person who tries to see just how much they can do and how far they can push it.
Curiosity – The curiosity of a good tester is like that of a user who wants to see how far he can push the software. What else can happen with the software? Additionally, that curiosity will get testers asking questions that can help them do their jobs better. (Scott Barber wrote about that in his recent column.)
Find fault with things – And good software testers, like good copy editors in the journalism world, have the ability find fault with things and improve them. They have eagle eyes that enable them to see things that regular people do not. And to leave those things unfixed is hard for them to understand.
Working hard to facilitate laziness – This doesn't apply to testers. I have yet to meet a lazy tester; most work tirelessly to complete projects. And when they have free time, they're offering to help other testers. As for testing tools, testers use them to do their jobs better, not so they have more time to laze about.
What do you think? Are there other traits that you think good software testers possess?