News
Stay informed about the latest enterprise technology news and product updates.
Ways Agile beats waterfall development, boosts software quality
"How many of you are agile-ists?" Agile expert and author Damon Poole asked attendees this at the SPIN local user group meeting near Boston this week. Then he said: "Agile-ists look like normal people… but if you don't believe in agile, let me assure you, there is nothing wrong with you."

Download this free guide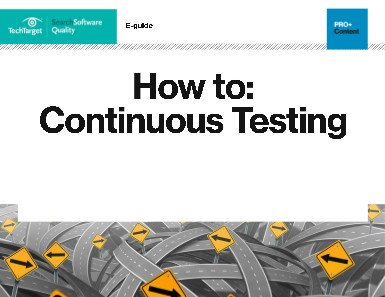 A developer's guide to continuous testing
The pace of application development has been increasing rapidly. Continuous testing is the only way to avoid bottlenecks. Download this PDF to introduce continuous testing in your organization.
Poole gave various examples and analogies of how agile development methodology works, noting that group involvement was a key of agile success. Agile developers benefit from receiving more frequent feedback from customers and having short-term, reachable deadlines, Poole said.
"Agile versus waterfall or any other methodology can be compared to touchdowns versus yardage," he said. "Where is the credit given? Clearly you can't win the game based on ridiculous yardage without scoring."
This analogy points to the major downfall of waterfall, a process in which the team scrambles in all different directions and gains some ground, but often fails to complete the project on time. Agile, he said, is different; you set reachable goals for short phases, or iterations, of development.
This process of "continuous integration" involves completing one set of functional code, getting feedback and then adding new coding to it and retesting. Doing projects in phases assures a higher quality because of multiple tests and retests carried out during the SDLC (Software Development Life Cycle).
"With agile, there is an absence of confusion," Poole said. "Do you guys remember the childhood game 'telephone'?" As nearly every hand in the room went skyward, Poole smiled: "How did that game go?" The audience chuckled, and appeared follow his point. If one person tells a group a direction or a goal and the group collaborates there is less chance for project digression. The project is more likely to be what the customer is looking for which is the equivalent of success.
Agile doesn't only benefit the industry or a company alone, Poole concluded. It also can benefit the individual. He listed these benefits for the agile team member
Less cancelled and or shelved work
Less pressure or stress over project duration, especially during crunch time as testing is done throughout SDLC
More individual ownership and feeling of involvement in a project
Increased project success
Poole frequently repeated the phrase, "the simplest thing that could possibly work." Agile is the simplification of complex tasks, he said, satisfying the customer today and tomorrow, allowing for full software development team collaboration and good returns on investments.
<

Boston SPIN presenter, Damon Poole (on right) speaking with SearchSoftwareQuality.com contributing writer Matt Heusser