News
Stay informed about the latest enterprise technology news and product updates.
Where do managers fit in an Agile world?
Do self-directed teams need managers?
One of the sessions I attended at the recent Agile Development Practices West conference dealt with the role of the manager in Agile development. The session, led by Skip Angel of BigVisible Solutions answered the question, "Where do managers fit?"

Download this free guide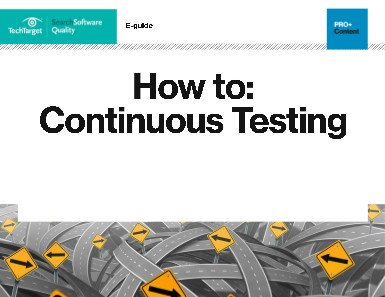 A developer's guide to continuous testing
The pace of application development has been increasing rapidly. Continuous testing is the only way to avoid bottlenecks. Download this PDF to introduce continuous testing in your organization.
In the following video, Angel discusses the need for "catalyst leadership," and suggests that managers can continue to support the team as catalyst leaders, helping them collaborate and encouraging them to grow and take risks.
Jurgen Appelo, author of Management 3.0 – Leading Agile Developers, Developing Agile Leaders, seems to have dubbed this type of new management as "Management 3.0." When I asked him exactly what that meant, he answered, "You definitely can recognize a manager who's into Management 3.0, and when you see someone leading, inspiring and guiding instead of ordering around, you can assume he or she's worth working for. But the easiest way probably is to ask team members whether their manager is an asset to them or a problem they have to cope with."
Whether you call it catalyst leadership, Agile management or Management 3.0, there still is a need for managers in Agile development. The change from "command and control" to a more collaborative approach, empowering the team to make more decisions is not a new management concept. However, in Agile development environments, there may be some growing pains as both project managers and resource managers need to learn to let go of some of their former decision-making responsibilities and practice more "servant leadership."