News
Stay informed about the latest enterprise technology news and product updates.
While walking the halls of Agile2015...
this is what I overheard on Day One of this very popular conference in Washington, D.C.:
"We submitted a paper and we heard back 20 days later. Normally you submit a paper and you hear back six months later and you've forgotten what you submitted. Here they're even Aile in how they handle the conference." – graduate student and speaker

Download this free guide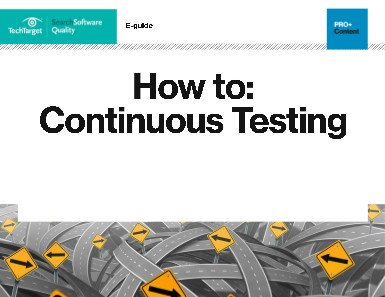 Instant Download: Your guide to introducing and maintaining continuous testing
The pace of application development has been increasing rapidly. Continuous testing is the only way to avoid bottlenecks. Download this PDF to introduce continuous testing in your organization.
By submitting your personal information, you agree that TechTarget and its partners may contact you regarding relevant content, products and special offers.
You also agree that your personal information may be transferred and processed in the United States, and that you have read and agree to the Terms of Use and the Privacy Policy.
"Ok, Agile failure already! They know how many women come to the Agile conference and they're out of women's t-shirts on the first morning? Really?" – Agile practitioner from a large technology company
"I have a really resistant team. They don't want to change, or do any kind of project management. We're making the same mistakes over and over again. Today I'm looking for little things I can bring back and suggest to them. We need work on team building." – manager of a software development team that works primarily with the federal government
"At my company, I guess we'd be called "Scrum buts" because while our developers use agile principles, I admit the systems engineers, etc., work on requirements completely separately. They're very resistant to change and I'm here looking for some ideas that might make it easier. It's very hard to scale Agile at the enterprise level." – manager of a software team that largely works with the Defense Department
"I really want to learn more about game theory and how it can be used to help make us more agile." – Agile coach at a large technology company
"Any team of programmers, if given enough time, will justify a complete rewrite of the code." – Luke Hohmann (paraphrasing a former colleage), Awesome Superproblems Keynote speaker