News
Stay informed about the latest enterprise technology news and product updates.
uTest announces QADate: High quality dating
uTest is known for their crowdsource testing services, but they are now expanding their market to online dating! Today they announced QADate, a free online dating service for software testers. Though the site is designed specifically with testers in mind, all technosexuals familiar with software development will enjoy the features offered. From the press release:

Download this free guide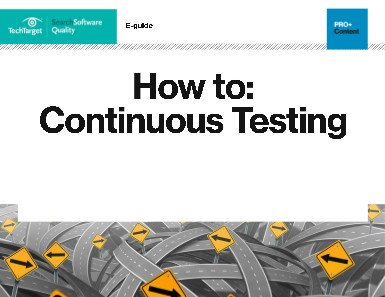 A developer's guide to continuous testing
The pace of application development has been increasing rapidly. Continuous testing is the only way to avoid bottlenecks. Download this PDF to introduce continuous testing in your organization.
Considering that uTest has a community of more than 37,000 QA professionals worldwide, and broad experience matching skilled testers with leading customers like Google, Microsoft, and AOL, this is a natural, inevitable—and perhaps obvious—step in the company's growth strategy.
QA professionals certainly understand the importance of validating requirements, so there is no doubt that before embarking on a date, they'll check for compatibility. And I would venture to guess there will be some serious questions about performance and security before any connections are made.
The site, unlike other dating sites, allows users to state their testing preferences. Exploratory testers will undoubtedly be thrilled to find matches who will totally get it when they ask for an IP address and understand questions about their use of anti-virus software. Testers know the importance of a safe connection!
Another unique feature is the ability to track the bugs you find with your date, classifying them as priority one problems (for major issues such as foul breath and body odor) to priority four problems (accidental burp). Of course, usability testing is subjective, but the QADate community will appreciate the transparency, allowing everyone the opportunity to assess feedback received as dates share the bugs and issues found. It allows for continuous improvement until that perfect connection is made.
Related posts:
How can I possibly test all mobile devices? Try crowdsourcing
uTest releases new apps for the iPhone and iPad
Crowdsource specialist uTest launching new performance, load test offerings
Crowd meets cloud: uTest and SOASTA announce partnership