Evaluate
Weigh the pros and cons of technologies, products and projects you are considering.
A guide to purchasing the right quality assurance software
The success of an app is tied to its quality. Quality assurance software ensures that the development and testing processes run smoothly and timely. This guide helps you decide which QA tools are right for you.
Introduction
The quality of an application or software is as vital today as it has ever been. Most times, the quality of a product is perceived through a strong user experience, and ensuring a strong user experience begins with making sure a product works and works well. You can test a product to see if it works right, but what ensures that your testing process is correct? And if it's correct, what guarantees that process is being used every time it needs to be?
Quality assurance software manages and executes testing processes. It assists development teams with managing the development cycles of software and applications and provides metrics into how the product is running. Like all other software, quality assurance software comes in many different sizes and shapes and addresses different issues for companies in different situations. This buyer's guide helps you sort that out to make sure you have the right quality assurance tools.
The process to purchasing quality assurance software should be as assuring as the software you're procuring. This buyer's guide defines the buying process for you. Heeding expert Gerie Owen's advice for selecting the right quality assurance tools should mitigate the risk that comes along with such a buying decision. Follow along as she takes you through what quality assurance software is, when it's used, when your organization would use it and which software is best suited for your organization.
Mitigating risk, preventing bugs and defects, tracing requirements, and adjusting to Agile or DevOps methodologies are all circumstances in which quality assurance software would be of great use. But not all organizations are built and operated the same way. Knowing which situation you're in requires you to perform a needs analysis for your organization. Once the needs have been identified, only then can you truly identify if you need QA software and, if so, which vendor is the best fit.
1

What is?

-
Explaining quality assurance and quality assurance software
Before diving into what quality assurance software is right for your organization, here is a primer on what QA is and how QA software can help an organization.
Feature
Not quite testing, but not ALM either, quality assurance is vital for the development lifecycle. Learn what QA is and how quality assurance software can help your enterprise. Continue Reading
2

Do I need?

-
Quality assurance software use cases
Quality assurance software ensures that the testing and development processes run smoothly and as they should. But when you need quality assurance tools is an important question to answer before purchasing quality assurance software. If you find yourself needing to mitigate risk, trying to implement a DevOps or Agile methodology, or tracing requirements and regulations, quality assurance tools might be the software you need to act.
Feature
Risk mitigation and overlooked bugs are situations enterprises constantly find themselves in. Quality assurance software addresses these issues. Continue Reading

Download this free guide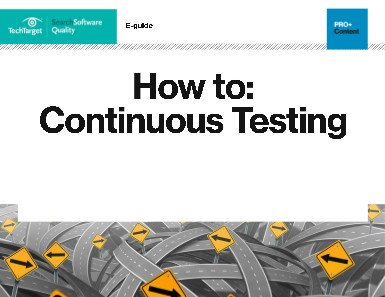 Instant Download: Your guide to introducing and maintaining continuous testing
The pace of application development has been increasing rapidly. Continuous testing is the only way to avoid bottlenecks. Download this PDF to introduce continuous testing in your organization.
By submitting your personal information, you agree that TechTarget and its partners may contact you regarding relevant content, products and special offers.
You also agree that your personal information may be transferred and processed in the United States, and that you have read and agree to the Terms of Use and the Privacy Policy.
3

How to buy

-
Which quality assurance software to buy starts with an inward look at your company
To evaluate the myriad quality assurance tools available today, start by looking inward and performing a needs analysis on your organization. Revealing pain points, understanding the development methodologies utilized by your company and knowing what type of industry you create applications for help you determine which quality assurance software fits your organization.
Feature
Performing a needs analysis and identifying pain points, methodologies and vision for the future can help you determine which QA and testing software fits your enterprise. Continue Reading
4

Which should I buy?

-
Connecting your QA needs with the right quality assurance software
Combining the use cases and the necessities derived from your needs analysis, this section covers which quality assurance software fits certain business scenarios best. Read more to find out which quality assurance tools are right for your organization.
Feature
From company size to agile development methodology and regulatory compliance, different scenarios determine which QA software fits which organization. Which package fits you best? Continue Reading
5

Top product overviews

-
Quality assurance software breakdowns
Here are more in-depth looks of the quality assurance tools mentioned in part 4, designed to give you a better idea as to how these products would fit into your company's budget, corporate culture and workflow.