 BACKGROUND IMAGE: iSTOCK/GETTY IMAGES
Application lifecycle management tools: A buyer's guide to ALM software
Editor's note
Application lifecycle management (ALM) is a comprehensive development process that has, over the past few years, grown in complexity due to the robust and rapid nature of today's desktop and mobile applications. ALM takes an app from conception to decommissioning, regardless of whether the company prefers to develop in an Agile, Waterfall, Scrum, or hybrid project management method. ALM software helps organizations through the ALM process. Some ALM software suites are browser-based. Some are on premises. Some cloud. Some work better for Agile, others Waterfall. Some work better for regulatory compliant companies, and so on. If you're an IT buyer charged by your enterprise with choosing an application lifecycle management tool, the options are a seemingly endless, complex knot.
This buyer's guide untangles that knot.
There are many benefits to using ALM software. ALM software, no matter the methodology your enterprise may use, can help reduce your product's time to market. It improves collaboration and communication among team members. It helps organizations meet government or industry compliances and standards. It increases project management traceability, visibility and stability. This guide provides use cases that explain those benefits, and helps you determine which benefits are important to you and your organization.
All ALM software suites have similar core functions, but some suites function better in certain areas than others. And ALM vendors have different offerings for pricing and support. This guide highlights which software functions and features to concentrate on and analyzes those functions and features in light of the needs of today's organizations, mapping out which ALM software works best for your organization.
In the end, this guide gives you the information to make the right ALM software buying decision for your company. It discusses many issues that organizations face with ALM and showcases the top ALM software suites in the market today.
1

ALM use cases

Before determining which ALM software you need to buy, you should determine if you really need it. This section provides common scenarios in which companies find themselves using (or in need of) application lifecycle management tools to alleviate development issues.
2

Key features and functions to look for in ALM tools and vendors

There are core features and functions to pay attention to in an ALM software suite. Just as important, the capabilities of the vendors themselves should be seen as key selling points when you are looking to buy ALM software. This section highlights the most important software and vendor considerations.

Download this free guide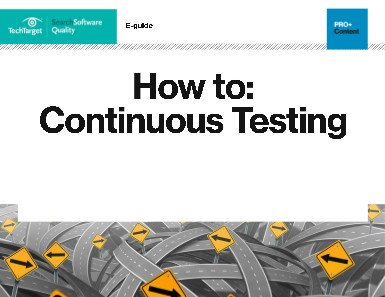 A developer's guide to continuous testing
The pace of application development has been increasing rapidly. Continuous testing is the only way to avoid bottlenecks. Download this PDF to introduce continuous testing in your organization.
3

Which ALM software suite is right for you?

This section shows which ALM software suites work best for your enterprise in certain scenarios.
4

The top ALM software suites

This section presents overviews of the top ALM software suites on the market today, detailing what each does, what they're built on and what each vendor offers in terms of licensing and support.