Evaluate
Weigh the pros and cons of technologies, products and projects you are considering.
Mobile app development tools: A buyer's guide
Mobile is overtaking desktop development computing. Matthew David guides you through native and cross-platform mobile app development tools, giving you the top criteria to consider when choosing tools and vendors.
Introduction
In order for companies to succeed before the mobile computing era, it was known that every organization needed a website to promote, sell and interact with customers at a high volume and on a high-quality basis. Today every enterprise needs to be mobile. Mobile is quickly overtaking desktop computing not only in terms of mainstream usage, but within the enterprise. The advent of bring your own device and a multitude of cloud-enabled productivity apps have given the workforce a new way of getting the job done. So now it's your organization's turn to catch up with its workforce. Where to begin?
This buyer's guide helps you find the right mobile application development tool.
Section one gives you a primer on mobile application development (MAD) and mobile application development platforms (MADP). It explains the differences between mobile and desktop app development -- the differences aren't as simple as the categorization suggests. It explores the different types of mobile apps that enterprises can develop such as native, cross-platform or hybrid.
To aid you in your search for the right MADP, the second section of this buyer's guide gives you the top criteria to look for in mobile app development tools and their vendors. Some key features will be more important to companies than others. The third section in this guide evaluates different companies' needs and analyzes different MADPs. From that information, we've created a list that matches software to different types of organizations. To provide further in-depth knowledge, the last section of the guide presents overviews of the top players in the mobile application development market.
Whether your organization's focus is on secure data or ease of use; whether its development team works only with Visual Studio or is comprised of Web developers; whether your organization is a large, globally distributed company or a 10-person startup, this buyer's guide is designed to help you find the right mobile application development platform for your enterprise.
1

What is?

-
The differences between leading mobile OSes and native vs. cross-platform app development
This section provides a primer on mobile application development. To understand mobile application development, you must first have a grasp on the differences between mobile and desktop development. Knowing the lead mobile operating systems -- Android, iOS and Windows -- is also important in getting the lay of the land for native mobile development. But developing natively isn't the only way to create mobile apps these days; a multitude of cross-platform app development tools are available.
Feature
Expert Matthew David explains differences between leading mobile operating systems and how they differ from traditional desktop applications. Continue Reading
2

How to buy

-
Key considerations for native and cross-platform mobile app development tools
This section is designed to show you the key features to consider when you're evaluating a mobile app development platform for your enterprise. Security, environment, cost, usability, integration with testing software, hosting and delivery are the important deciding factors when considering a tool that develops mobile applications. Consider this section a guideline when you're building your RFP.
Feature
Expert Matthew David goes over key factors to consider when buying mobile application development tools, like security, testing and hosting. Continue Reading

Download this free guide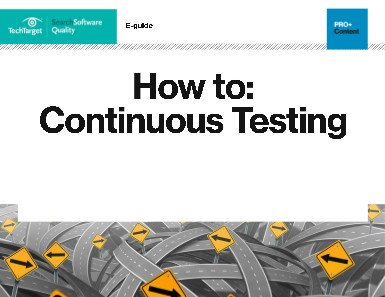 Instant Download: Your guide to introducing and maintaining continuous testing
The pace of application development has been increasing rapidly. Continuous testing is the only way to avoid bottlenecks. Download this PDF to introduce continuous testing in your organization.
By submitting your personal information, you agree that TechTarget and its partners may contact you regarding relevant content, products and special offers.
You also agree that your personal information may be transferred and processed in the United States, and that you have read and agree to the Terms of Use and the Privacy Policy.
3

Which should I buy?

-
Choosing between Android, iOS, Windows and cross-platform app development tools
With so many ways to develop apps and so many tools out there that can do the job, selecting the right tool for your enterprise can prove to be an uphill battle. This section provides several articles that can guide your purchasing decision. Whether your company develops native apps for Apple, Android or Windows products, or wants to develop hybrid apps that span all major OSes, this section shows you how to assess each product based on the key criteria mentioned in the above section.
4

Top product overviews

-
MADP products from today's market leaders
Choosing which mobile application development platform is right for your enterprise can be an extremely daunting task. But the right MADP will help your enterprise get the job done and put it on a path of success for years to come. The great news for those in the market for a MADP is that vendors recognize the important role applications play in the day-to-day operations of enterprises. However, determining the needs of your enterprise is equally important. Do you want to develop consumer-oriented apps? Employee-oriented apps? Both? Do you need platform-specific -- native -- apps or apps that function across multiple devices -- cross-platform and hybrid? Luckily today's market leaders provide developers with the tools and technologies needed to develop and publish apps that meet all your requirements, no matter how small.