Definition
SSADM (Structured Systems Analysis & Design Method)
SSADM (Structured Systems Analysis & Design Method) is a widely-used computer application development method in the UK, where its use is often specified as a requirement for government computing projects. It is increasingly being adopted by the public sector in Europe. SSADM is in the public domain, and is formally specified in British Standard BS7738.
Content Continues Below

Download this free guide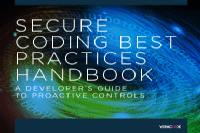 Handpicked for You: Secure Coding Best Practices Handbook
Download now for secure coding best practices based on the OWASP Top 10 Proactive Controls. These are security techniques that should be included in every software development project. You'll get a brief overview of each control, along with coding examples, actionable advice, and more.
SSADM divides an application development project into modules, stages, steps, and tasks, and provides a framework for describing projects in a fashion suited to managing the project. SSADM's objectives are to:
Improve project management & control
Make more effective use of experienced and inexperienced developmentstaff
Develop better quality systems
Make projects resilient to the loss of staff
Enable projects to be supported by computer-based tools such as computer-aided software engineering systems
Establish a framework for good communications between participants in a project
SSADM covers those aspects of the life-cycle of a system from the feasibility study stage to the production of a physical design; it is generally used in conjunction with other methods, such as PRINCE, which is concerned with the broader aspects of project management.
In detail, SSADM sets out a cascade or waterfall view of systems development, in which there are a series of steps, each of which leads to the next step. (This might be contrasted with the rapid application development - RAD - method, which pre-supposes a need to conduct steps in parallel.). SSADM's steps, or stages, are:
Feasibility
Investigation of the current environment
Business systems options
Definition of requirements
Technical system options
Logical design
Physical design
For each stage, SSADM sets out a series of techniques and procedures, and conventions for recording and communicating information pertaining to these - both in textual and diagramatic form. SSADM is a very comprehensive model, and a characteristic of the method is that projects may use only those elements of SSADM appropriate to the project. SSADM is supported by a number of CASE tool providers.
This was last updated in
March 2008
Continue Reading About SSADM (Structured Systems Analysis & Design Method)
Dig Deeper on Agile, DevOps and software development methodologies