Definition
access control list (ACL)
An access control list (ACL) is a table that tells a computer operating system which access rights each user has to a particular system object, such as a file directory or individual file. Each object has a security attribute that identifies its access control list. The list has an entry for each system user with access privileges. The most common privileges include the ability to read a file (or all the files in a directory), to write to the file or files, and to execute the file (if it is an executable file, or program). Microsoft Windows NT/2000, Novell's NetWare, Digital's OpenVMS, and UNIX-based systems are among the operating systems that use access control lists. The list is implemented differently by each operating system.
In Windows NT/2000, an access control list (ACL) is associated with each system object. Each ACL has one or more access control entries (ACEs) consisting of the name of a user or group of users. The user can also be a role name, such as "programmer," or "tester." For each of these users, groups, or roles, the access privileges are stated in a string of bits called an access mask. Generally, the system administrator or the object owner creates the access control list for an object.
Content Continues Below

Download this free guide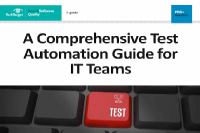 24-Page Test Automation Guide for IT Teams
Software developers increasingly turn to automated testing tools and workflows to speed up testing regimens while ensuring better consistency and completeness in the QA process, but success demands a high level of understanding. Here is your one-stop shop for test automation. This guide walks through the benefits and challenges, how to craft an automated testing strategy, and how to compare tools.
This was last updated in
January 2006
Continue Reading About access control list (ACL)