Definition
application lifecycle management (ALM)
What is application lifecycle management?
Application lifecycle management (ALM) is an integrated system of people, tools and processes that supervise a software application from its initial planning through retirement. By combining and organizing the elements of an application's lifecycle, ALM improves product quality, optimizes productivity and eases the management and maintenance of products.
ALM tools automate the software development and deployment processes, help ensure compliance is maintained and create a standardized environment for all teams involved in the application lifecycle to communicate and collaborate.
Why is ALM important?
ALM helps companies set appropriate requirements for projects and guarantee they are met; it improves the development process with the incorporation of frequent, thorough tests; and it ensures each team is collaborating to produce the best product possible.
Furthermore, top software companies deploy updates for their products daily. Application lifecycle management helps businesses achieve this level of efficiency and gain a competitive edge by accelerating workflows and ensuring top-quality products are deployed.
Stages of ALM
Application lifecycle management consists of 5 stages:
Defining requirements
Development of the product
Testing and quality assurance
Deployment
Continuous maintenance and improvement of the product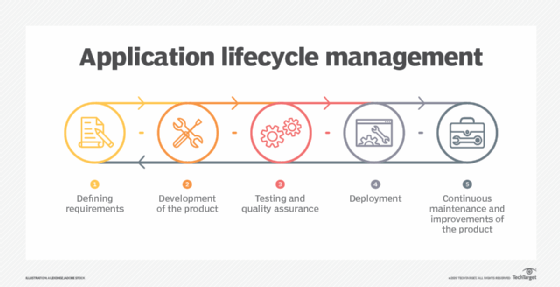 1. Defining requirements
When defining requirements, all stakeholders gather to declare what they need from the application to support their business cases. A design of the application is created based on the expressed needs. Requirements can include a range of factors, from the business needs of the stakeholders to compliance requirements.
The requirements specification process is frequently done in a top-down fashion, meaning the needs start with declaration of the most general and proceed into the more specific.
As a result, case requirements are often shown in a hierarchical tree structure with each node representing a more specific sub-requirement for the more general parent node. However, other development approaches, such as the iterative Agile development process, use less hierarchical structures to list requirements, with the defined needs identified as use cases.
2. Development of the product
Development of the product begins once all requirements have been set and agreed upon. In this stage, the product is brought from an idea and design to a real, working application. At the start, the development team must break down the application requirements into pieces and phases to create a development plan.
It is beneficial to incorporate representatives from all related teams during this time -- this includes sales, product marketing, IT and testing. This will help ensure that the created product satisfies all defined needs and is easy to use, test and deploy.
There is a wide variety of development methodologies that can be applied to this stage. The most popular are sequential -- for example, the waterfall model -- or iterative -- such as Agile development.
3. Testing and quality assurance
Testing and quality assurance often overlap with the development stage. Testers should begin preparing their test cases and testing environments before the product is formally released to them. Testers should also be available to provide feedback on the application throughout development. Furthermore, integration and unit tests should be incorporated into the programming activities. Continuous integration systems are often used by development teams.
During the formal testing and quality assurance stage, testers must verify that the application fulfills the requirements defined in the first stage of the process. Testers should also check for all other stakeholder expectations that the app will need to support throughout its lifecycle. Full integration testing is also performed at this time and all issues or bugs that are discovered are reported and addressed by the development team.
The development and testing stages conclude when the product reaches a level of quality and stability that is good enough for release. This level is defined by the product marketing team.
4. Deployment
The deployment stage involves the release of the product to users. This process varies based on the type of application being deployed -- each product type requires different attributes and specifications. For example, software as a service (SaaS) apps must be deployed on the internal servers of the company while web apps can be accessed through the internet.
5. Continuous maintenance and improvement of the product
Continuous maintenance and improvement of the product occurs after deployment to monitor and manage the performance of the released application. In this stage, remaining bugs are found and resolved, and new updates are planned and prioritized.
Maintenance is frequently the longest stage of application lifecycle management, but it can also require the least participation from the development team if the previous stages were completed effectively.
An important element of the maintenance stage is defining the retirement of the system. In other words, teams must decide on the point at which work should be stopped and moved to a newer version of the product or migrated to a different product entirely.
Benefits of application lifecycle management
Some key benefits of ALM include:
Increased visibility into workflow
Enhanced compliance
Faster deployments
Higher-quality products
The integrated system created by ALM is more efficient than a collection of unconnected tools and processes spread across various teams. This integration also benefits organizations by improving communication and collaboration and aligning software objectives with any business value or corporate goal.
The ability for teams to collaborate ensures each worker understands the project and the stage it's at. ALM tools allow workers to track strategies, changes, requirements and project status in real time, regardless of their location. ALM tools also prioritize the various team goals and help define the various skill sets needed for different processes.
In addition, application lifecycle management provides an organization with a clear direction for its workflow before the app is even built. The first stage -- defining requirements -- allows companies to develop a business case, define the lifespan of the app and plan the necessary resources before committing to development. This saves the organization time and money by avoiding unnecessary work and expensive mistakes.
ALM also improves teams' decision-making abilities when dealing with aging software. Most ALM tools will include features like version control and real-time planning which allow team leaders to easily map the application's future. This capability can also eliminate a lot of confusion for companies dealing with multiple applications.
ALM tools
ALM is enabled by a collection of project management tools that integrate people and processes. These are referred to as application lifecycle management tools. Numerous ALM tools are available for tracking application changes.
These tools range from dedicated ALM products that monitor an application from inception to completion, automatically sorting files into logical buckets as changes are noted, to simple wikis that require team members to record changes manually.
Organizations should look for several key features when choosing an ALM tool:
Version control
Team communication and planning in real time
Estimation and planning
Requirements management
Test management and quality assurance
Source code management
Automated deployment
Application portfolio management
Maintenance and support
The ALM tool allows users to define project requirements and develop user stories, which can then be prioritized, scheduled and broken down into detailed tasks used for resource tracking. Resource tracking is the analysis of how well an organization is using their resources throughout the app's lifecycle. ALM tool users can also attach documents, screenshots and URLs to all artifacts and customize all graphs and reports in various formats -- including Adobe Acrobat and HTML.
ALM tools enable users to create, modify and perform test cases; manage automated and manual tests; track issues, bugs, risks and enhancements related to the source code repository; and access a complete audit history of all changes made to the application. ALM tool dashboards can be personalized, and the reporting that appears can be customized to best benefit the specific user.
Some popular examples of ALM tools include the following:
Inflectra
Atlassian ALM Works
CollabNet VersionOne
Micro Focus ALM Octane
Perforce Helix ALM
ALM vs. SDLC
Software development lifecycle (SDLC) refers to the processes or set of procedures involved in the creation of a high-quality software product. Application lifecycle management is similar to SDLC, but it incorporates a larger range of processes.
While ALM covers the entire application lifecycle, SDLC only focuses on the software development process. In other words, ALM includes all five stages of the app's lifecycle -- requirements, development, testing, deployment and maintenance -- but SDLC only includes one stage -- development.
Consequently, application lifecycle management includes software development lifecycle, but SDLC only focuses on a fraction of ALM.
See also: change management, change control, change log, application portfolio management
This was last updated in
October 2021
Continue Reading About application lifecycle management (ALM)