Versioning is the creation and management of multiple releases of a product, all of which have the same general function but are improved, upgraded or customized. The term applies especially to operating systems (OSs), software and Web services. Version control is the practice of ensuring collaborative data sharing and editing among users of systems that employ different versions of a product. The terms "versioning" and "version control" are sometimes used interchangeably even though their technical meanings are different.
In software versioning, subsequent releases of a specific product receive numerical identifiers consisting of two or three numbers separated by periods. The first number, called the major number, is increased when there are significant improvements or changes in functionality. The second number, called the minor number, is incremented when there are minor feature changes or significant fixes. The third number, if it exists, is called the revision number. It is added or increased when minor bugs are eliminated.
Content Continues Below

Download this free guide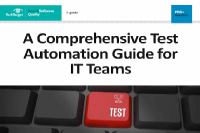 24-Page Test Automation Guide for IT Teams
Software developers increasingly turn to automated testing tools and workflows to speed up testing regimens while ensuring better consistency and completeness in the QA process, but success demands a high level of understanding. Here is your one-stop shop for test automation. This guide walks through the benefits and challenges, how to craft an automated testing strategy, and how to compare tools.
This was last updated in
April 2007
Continue Reading About versioning