Editors' Choice: Tasktop Integration Hub links DevOps toolchain
Learn why Tasktop Integration Hub's ability to connect the DevOps toolchain and BizDevOps teams earned our Editors' Choice for Innovation.
The editors at SearchSoftwareQuality regularly recognize application integration and DevOps toolchain technologies for their innovation and market impact. The Tasktop Integration Hub is our March 2017 selection.
Product: Tasktop Integration Hub
Release date: Jan. 31, 2017
Vendor: Tasktop Technologies Inc.
What it does
Before using Tasktop Integration Hub, doing manual application integrations was the only option when Mark Wanish wanted to add applications to his company's legacy DevOps toolchain.
"There was too much overhead to innovate, because it took so long to do point-to-point integrations," said Wanish, relationship technology director for Teachers Insurance and Annuity Association of America (TIAA) of Charlotte, N.C. "It got more and more cumbersome and costly."
We looked for every means of relieving bottlenecks in ... continuous delivery.

Mik KerstenCEO, Tasktop
Enter Tasktop Integration Hub, which offers a model-based integration layer, visual user interface and more. After deploying this new integration suite, TIAA has automated integrations for the entire DevOps toolchain. Also, the product features a central user interface for all IT and business stakeholders.
Now, Wanish said, his whole DevOps team can see what's happening in each system without jumping around from one system Dashboard to another. "Everyone has a consistent view of the data," he noted.
In creating Integration Hub, the Tasktop team examined what happens from the first stages of development and committed code to the code running in production. "We looked for every means of relieving bottlenecks in the journey towards continuous delivery," said Tasktop CEO Mik Kersten.
Why it's cool
"Everyone's been making these crazy API integrations, database integrations, basically writing all this spaghetti code to make the tools work together, because the tools were never meant to work together" Kersten said.
Tasktop's goal was making the DevOps toolchain more agile, which called for automation and modularity. As a result, Integration Hub allows users to plug in new tools to old tools. "They can experiment with the latest tools, while everything flows across this value stream," Kersten said.
IT analyst Theresa Lanowitz sees Integration Hub as the end of the integration waiting game. "People were always waiting for one particular vendor to create an integration between tool A and tool B," said Lanowitz, founder of IT research firm voke inc.
Now, Lanowitz said, Tasktop's strong integration layer provides the necessary plumbing, the behind-the-scenes infrastructure, that allows for a lot of connectivity between the disparate types of applications, as well as hand-offs between different groups.
What a user says
Tasktop Integration Hub's data access features are Wanish's favorite. All team members can access data about the DevOps toolchain. "We can see what's happening in each system without jumping around," he said.
Previously, IT and business users had to leave one app to grab data from another app. "Every time someone had to leave an app, rather than driving business value, they were adding to cost of operation." Now, everyone has a consistent view of all data.
The result shows up in less time spent filling out reports for each other, as when a business person has to ask an IT person for, say, application performance monitoring data. "Think of how much pain it is to make reports for other team members," said Wanish. "Everyone is crunched for resources. You don't have time to pull someone off to create a report for another department."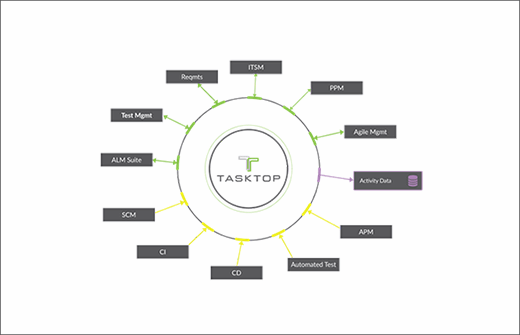 In Agile and DevOps environments, technology problems usually create a small percentage of continuous delivery bottlenecks. "The biggest time-waster is getting everyone on the same page," said Wanish. By giving everyone a consistent view of the DevOps toolchain, Tasktop Integration Hub helps him keep the team focused on business value, as well as enabling the flexibility the change with the market.
Wanish evaluated several vendors' automated integration products before going with Tasktop. The tipping point, he said, was Tasktop's full-on partnership approach, which played out well during deployment and promised a long-term relationship.
Pricing
Tasktop Integration Hub is available in three editions, each with progressively increasing functionality. Prices start at $12.50 per user, per month.
Dig Deeper on Agile, DevOps and software development methodologies