Insight on building and supporting cloud apps
Fotolia
Problem solve
Get help with specific problems with your technologies, process and projects.
Which software engineer skills matter? All of them
The ongoing developer shortage means employers face unique challenges when it comes to hiring. LinkedIn's Sarah O'Brien offers insight into how developers behave and what they're really looking for.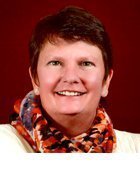 By
Want to hire someone with software engineer skills? It's going to take more than salary, a good work-life balance or an interesting technical challenge. In fact, it's going to take all three of those things, according to Sarah O'Brien, global director of insights for LinkedIn.
"If you're an employer, you not only have to get compensation and work-life balance right, but you also need to provide challenging projects that are going to push a developer to the next level," she explained.
LinkedIn lumps six different types of developers into the software engineer category, and O'Brien said there is quite a bit of variation in how they behave. One example: "Data scientists and machine learning experts are heavily in demand, and, as a result, the way they are looking for jobs is much more passive," she said.
The popularity of DevOps and its required software engineer skills mix has also changed things. "This is a prime example of multiple disciplines coming together and creating hybrid skills," she said. "We are seeing the nature of what skills are relevant change more rapidly. People are growing a wider variety of skills in their tool belt. It is less about reaching the perfect unicorn with every skill versus what is the propensity to gain skills over time and how you can adapt to another skill."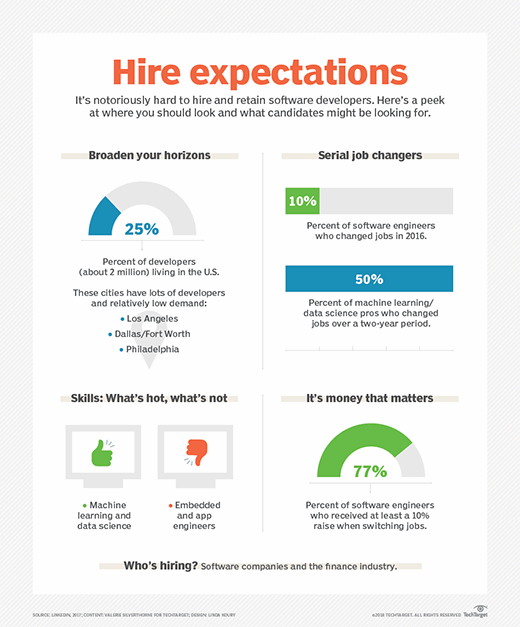 For better or worse, this is also behavior that is unique to the developer category, O'Brien said. "This population is advancing its [software engineer] skills much more rapidly than is typical."
Organizations know how hard it is to hire and retain people with software engineer skills today. Pay, perks, company values and location are only some of the factors that matter. LinkedIn recently analyzed its software developer profiles and found they receive triple the amount of InMail as other members. The above graphic contains insights that might help your hiring quest.
Dig Deeper on Software developer skills and training