Share this item with your network:
Technology insights for the data-driven enterprise

olly - Fotolia
Why understanding data science and AI will change everything
Everyone wants faster software development, but how to get there? Here's how Soasta evangelists are selling the world on data science one customer at a time.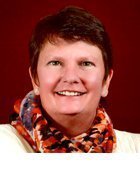 By
In a rapidly changing world filled with too much information, Tom Lounibos, CEO of Soasta Inc., has a simple, down-to-earth, one-word solution for his customers looking to make a digital transformation: practice.
A one-time college baseball star drafted by the major leagues, Lounibos admitted he often turns to sports metaphors when talking about business solutions. "If you're making the move to playing pro ball, it's the same game, but everything is just so much faster," he explained. "So how do you get there? You watch the films, you hit the batting cage ... in other words, you practice."
For companies looking to develop software like the pros -- Amazon, Netflix, Google -- practice is really all it takes -- sort of. Too bad there's no digital equivalent of a batting cage. Instead, customers have to rely on something that's far from simple: advanced software-monitoring solutions that track everything about software performance, usability and response rates. These platforms theoretically can let companies "practice" a design tweak or marketing campaign, but they generate so much information that mere mortals simply can't wade through it all. Some companies end up with literally thousands of screens monitoring all the data, but at the end of the day, they don't really know how to take the information and make it work for them, Lounibos said.
Hitting and data science
That "not being able to get your players ready for the big game" thing wasn't working for Lounibos, and it's been a very real issue for Soasta. Too much information is, indeed, too much, and sometimes the volume is off-putting. "We spent a lot of time selling people on our data science platform only to discover they just couldn't wrap their heads around it all," Lounibos said.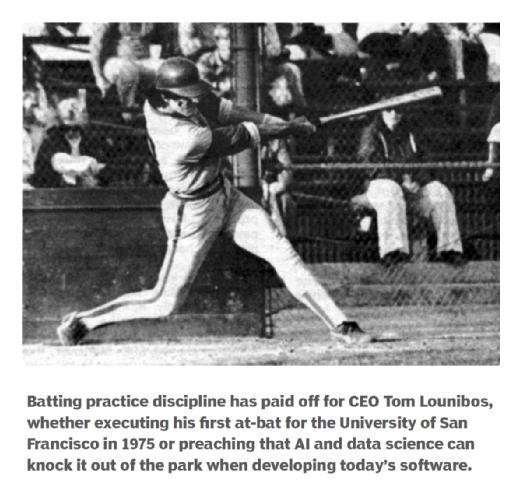 So by putting on his coaching hat, Lounibos and his team of "quants" -- as in quantitative analysts, i.e., data scientists -- spend their days selling people on the benefits of data science: what it is, how to use it and why it matters. They explain that understanding and pairing data science and AI (artificial intelligence) can help develop better software faster.
Now, it's like going into a batting cage that simulates a real-world environment.

Tom LounibosCEO, Soasta
But that's a leap, particularly when it comes to AI, a long-standing technology that is not broadly used and owns a checkered past (HAL 9000, anyone?). That's where Lounibos' extensive experience in Silicon Valley with startups and established companies comes into play. He's no stranger to fast-paced change or the need to coach customers on new technologies. "What I love about our industry is I think we get caught up with a lot of particular technologies," he said. "But the best thing about this industry is we are more adaptive than pretty much anything else out there. We're looking for change and not comfortable being static."
For starters, Lounibos realized Soasta needed to practice what it preached. The company ramped up its hiring of data scientists so much that he refers to Soasta as a "data science company" that's training a generation of whiz kid math majors to get out and spread the word about understanding data science and AI. "We're selling data science -- conversion rates, bounce rates, anomaly detection, impact scores, latencies and metrics tied to specific industries," Lounibos said.
The Soasta team is selling the magic behind sites like Amazon, which uses measurements of the most minute details paired with AI to constantly tweak and change what it's offering. His company is placing what many call the "Amazon effect" within reach of nearly any organization.
Tom Lounibos
CEO and co-founder of app testing and performance analytics software maker Soasta Inc., recently purchased by Akamai Technologies.
Former CEO of software-as-a-service developer CoreLogic Dorado and integration software developer Kenamea Inc.
Named one of Silicon Valley's "Top 100 Most Powerful Executives" by the Silicon Valley Business Journal.
Earned a bachelor of science in economics from the University of San Francisco (USF).
Academic All-American and a member of the USF Athletic Hall of Fame, which includes Boston Celtics greats Bill Russell and K.C Jones.
Top baseball prospect at USF, drafted in 1978 by the Minnesota Twins in the same MLB draft class as Hall of Famers Cal Ripken and Ryne Sandberg.
Ran 10 marathons, including Boston, New York, London and Rome.
One of his first jobs was as a ball boy for the 1976 Super Bowl Champion Oakland Raiders.
By getting data science and AI in the door, other changes will start to happen, Lounibos noted, and those changes are nearly as valuable. First, companies start to see that information silos can be deadly to growth and innovation. "Back when we came out of college, it was about being deeper, not broader," he said, the idea being that an individual was such an expert developer that he or she could work alone. But in this new world order with rapid-fire development, collaborative teams are necessary to take data and run with it. "We're learning now that you have to be broader, not deeper," he stressed. "We're not changing what we do; we're changing how we do it."
Stretching hits into home runs
At one time, software development was really little more than a guessing game, Lounibos said. "Everyone used to rely on a few guys in the back room guessing about how people would use an app," he explained. "Now, it's like going into a batting cage that simulates a real-world environment. We're not guessing how people use an app; we're actually seeing in real time how they use that app. And then a company can change its behavior dynamically if it needs to." Getting to that point once took companies weeks or even months, but "by understanding data science and machine learning," he said, "companies can now quickly get to actionable components of information that can tell them to turn left or turn right."
The promise of data science and AI is so compelling that some of Soasta's customers have gone so far as to create their own data science teams to, as Lounibos put it, "get their hands dirty and really get down in the data." What it all comes down to is a way to gather and use facts to make critical decisions. "People love it when their instincts are proven with facts," Lounibos said. "It's like bringing a gun to a knife fight; now I am bringing actual facts about what happened here."