News
Stay informed about the latest enterprise technology news and product updates.
Writing About Testing (WAT): A conference for software testers who write
Style and grace were the values emphasized at the 2011 conference in Durango for testers who write about the art. SSQ Agile expert Lisa Crispin attended this conference and brings back the highlights.
Writing About Testing (WAT) is a community of software professionals who not only test, but write about testing, in blogs, journals, books or websites like SearchSoftwareQuality.com. In May, 2011, the second WAT conference was held in Durango, Colorado. We were fortunate to have participants from Europe and Israel, as well as North America. A diversity of viewpoints is powerful. Our goals are to explore new frontiers, raise the bar for writing about testing and make a little music.
Over the course of two days, we enjoyed presentations, writing exercises, lightning talks, games and interactive discussions. Here are just a few of the highlights for me.
Chris McMahon introduces the values of style and grace
Our group's founder, Chris McMahon, kicked off the conference by introducing style and grace, referencing Brian Marick's Agile values of ease and joy. Chris noted that style, along with physical and spiritual grace, keeps you from going down in bad times. When we're gracious and kind to each other, we can get through a traumatic period and forge relationships that will help us grow and improve in the future. Chris accompanied his talk with some lovely ukulele music.
For our first writing exercise, I was fortunate to pair with Shmuel Gershon to write about how grace helps you navigate a change. We used examples from our own work and professional lives to illustrate the value of graciousness. This exercise got me thinking about how style and grace help us communicate better. Communication is especially critical in a period of change and chaos.
The use of personas
Shmuel started his presentation by remarking that writing helps him to better understand. Lots of heads nodded. I, for one, blog mainly to learn from what my colleagues and I have done. He went on to talk about using personas for writing. Many of us have used personas to represent users of our software product. It hadn't occurred to me that this would work for writing, too. Yes, Tina Tester, a passionate tester who enjoys picking up new ideas from write-ups of conferences, I am talking to you. Writing to a particular persona helps focus your style.
Markus Gaertner referenced Rob Lambert's work when he commented about "PAC" -- Purpose, Audience and Context. This applies to both software development and writing. Alan Page brought up another use for personas -- for career development. Personify different testing professionals, let testers choose one who embodies the tester they aspire to become, and help them get the training and support they need to achieve that goal.
Testers are like ninjas
Lanette Creamer's presentation had personas too -- ninjas! She noted that software teams often hear "tester legends," for example, "testers assure quality," "testers break software," and "testing is boring." However, we do have mysterious cults! Like ninjas, the best testers are invisible. Users shouldn't be thinking about the quality -- they should be using it. Like ninjas, we need to practice our art, build a solid foundation and work towards mastery. Once we have the fundamentals, we can make use of tools.
Software development and testing is a performance art
Last year at WAT, Chris McMahon explained his view that testing, indeed software development, is a performance art, and the feedback from our audience informs us of our level of success. Zeger van Hese cited Chris and other "artful pioneers" and explained how testers can learn from and benefit from the arts. We can look at software the same way we look at art, apply the tools used by art critics and find a fresh perspective that emulates the way artists look at the world.
Zeger's presentation was too deep to summarize well here, but one of his points was that like art, testing should engage many senses at the same time. We can look thoughtfully at software, just as we look thoughtfully at art. Prior knowledge helps us reflect on what we see. Whether we're looking at art or testing software, we need time to do it the right way. There are times when we need to slow down, other times we need to be more adventurous. Zeger presented many examples and heuristics that we can put to use in exploratory testing.
The importance of communication
Since I've been thinking about ways to improve communication between testers and programmers, Marlena Compton's presentation on addressing this dichotomy resonated. She referenced the book Crucial Conversations: Tools for Talking When the Stakes are High(Patterson et. al., 2002) with examples of situations where the stakes are high and emotions are strong, such as when a programmer states, "That works on my environment" or "No user would do that." Rather than slip into a "flight or fight" mode, we should think about what we want out of the discussion and avoid deliberating between two poor choices. This is especially important with dispersed teams.
Marlena had us practice this idea with a group exercise in which we had to clarify what we wanted and what we didn't want, and combine those into one sentence. Markus Gaertner's group came up with the most attractive visual expression of this: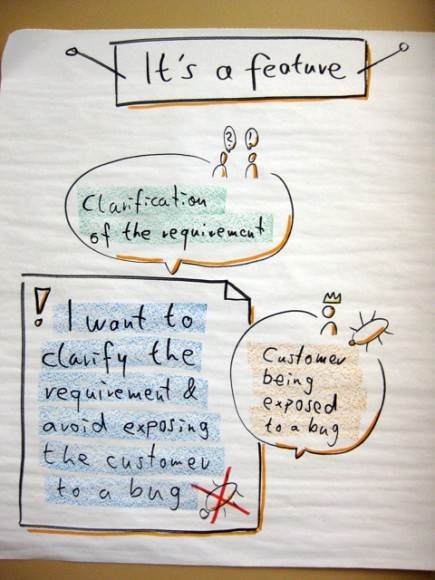 Focus on the big picture, including the "ilities"
In his presentation, Alan Page explained how he and his teams have shifted focus to the big picture, realizing that "ilities" such as usability, compatibility, security and privacy are paramount in so many applications. It's interesting that many companies now start with technology-facing tests that critique the product, rather than low-level functional testing. I enjoyed hearing how other teams use mind maps to plan and communicate their test strategy. The idea of starting with an end-to-end type scenario, then digging into details as needed, rather than the other way around, seems sensible to me.
The conference was filled with style and grace
Style and grace figured in other talks during the two days. Matt Brandt got us thinking about the part grace plays when we deal with risky situations. Sylvia Waite compared software craftsmanship with the art of jewelry making. Style adds value to both of those disciplines.
In addition to presentations and writing exercises, we enjoyed lightning talks, and tested out various games to help teach testing concepts. Keep an eye out for articles that began here at WAT2, especially those written in our "pairing" exercises! Style and grace were the watchwords of our weekend, and they'll lead us to new frontiers in both testing and writing about testing. Given that Zeger van Hese has also taken up the ukulele, I expect we will reach new musical heights as well.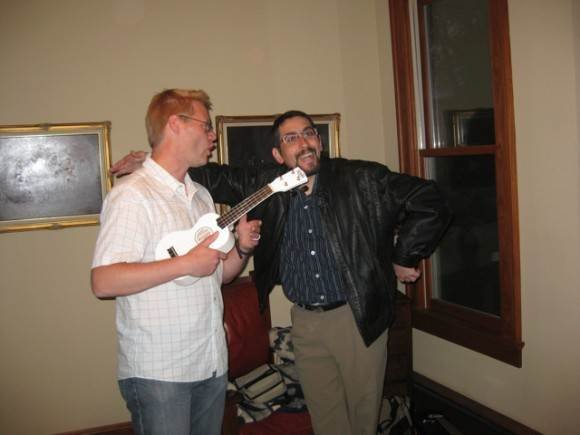 Dig Deeper on Software Testing Methodologies