Smart software developer training strategies
A worldwide shortage of coders has left employers scrambling, but smart software developer training strategies can help fill the gap.
To resolve the worldwide shortage of software developers, the answer is education.
But that doesn't necessarily mean a college degree, or even a vocational-technical school certificate.
The shortage of developers, combined with a surge in demand from nearly every industry, has forced governments, schools and private businesses to cobble together products that will quickly yield more software developer training. But a lack of agreement about how, where and when to educate has led to piecemeal efforts, which many fear will be insufficient to meet demand.
"The shortage is pretty bad from a U.S. perspective," said Emirali Mustafa, research analyst at U.K.-based firm Procurement Leaders. "The current projections are that universities are going to only produce 30% of the required 1.4 million software jobs [in the next five years]."
And it's not really any better in other parts of the world. Europe is expected to be short more than 900,000 developers by 2020, Mustafa said. And even in Ukraine, where software development is nearly the national pastime, it can still be challenging to hire experienced developers, said Irina Kovalyova, marketing officer of Kyiv, Ukraine-based outsourcing firm Redwerk.
Four years vs. 12 weeks for software developer training
The obvious place to start is the university system. But perhaps it's too big of a solution for the problem.
"People are really starting to question the value of a university degree, when it comes to software engineering," said Daniel Theobald, CTO at medical robotics maker Vecna Technologies Inc., in Cambridge, Mass. "Technology is changing quickly, so universities do not really provide a whole lot of value there. The economics are also increasingly difficult to justify: $100,000 in debt or make $100,000 with a high school degree next year. Which would you choose? Nobody likes homework."
People are really starting to question the value of a university degree, when it comes to software engineering.

Daniel TheobaldCTO, Vecna Inc.
And nobody wants to spend time on training that won't get the job done. "[Tech skills] really are becoming more accessible now, with less training than ever before," said Matt Sigelman, CEO of Boston-based research firm Burning Glass Technologies. "We need to make sure we're training for a range of software development jobs that relate to the skills needed for those jobs and not layering on a whole bunch of other requirements."
One answer to this has been the rise of private for profit schools and boot camps dedicated to training developers in very short order. One of many, AppAcademy, offers a 12-week training program for developers. Those who complete the program and find a job owe AppAcademy 18% of their first-year salary paid over six months. According to the company's website, 98% of its graduates work in technology fields, and the average salary of San Francisco-based alumni was $105,000 in 2014.
"You really can spin more people through these kinds of paths, rather than a four-year university education," said Allan Jones, chief marketing officer of ZipRecruiter Inc., in Santa Monica, Calif., who himself dropped out of school and taught himself Web and development skills. He thinks the market is ready for these kinds of graduates, versus people with four-year degrees. "It's a lot less about the age of the individual and the lack of skill, and more to do with a quicker, emerging acceptance of alternative paths," he said.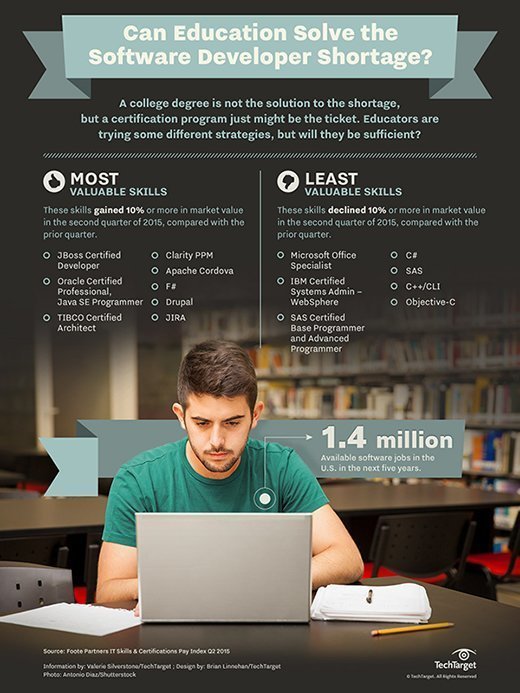 In Washington state, the shortage is so severe -- 10,000 unfilled software development jobs just in the Seattle metropolitan area, as of September 2015 -- the community college system is applying for a grant to begin offering a credential program to give residents fast and inexpensive access to coding skills. "This is targeted at people who already have a bachelor's degree, because companies in Washington want employees with college degrees," said Maureen Majury, director of the Center of Excellence for Information and Computing Technology at Bellevue College in Bellevue, Wash. "Our tuition can be a lot cheaper than those private programs, and the goal is to eventually have this in most of our 32 locations across the state."
And Majury thinks that not only will this be an easy and cost-effective solution, but it has the potential to be better than what a four-year school could offer. "A degree in computer science from a university can really take a theoretical approach, and community colleges are very hands on," she said, which will may give students valuable real-world skills.
Younger software developer training
From a government perspective, however, the solution is to start even earlier. In many Eastern European countries, coding is regularly taught in elementary schools and many private companies offer free or low-cost coding classes at the high school level, Kovalyova said. The end result is that nearly anyone who wants to become a software developer can afford training to become one.
The U.K. tried its own version in 2014 and launched the Year of Code, in which every student from ages five to 16 would have software development worked into their curriculum. However, public reaction was skeptical, Mustafa said, with people concerned that most teachers lacked the knowledge to teach the courses and that the program had no true government support.
Meanwhile, earlier this year, President Obama introduced the TechHire Initiative, which is aimed at bringing nonprofit coding schools, cities, community colleges and industry leaders together with students early to get them on the path to "well-paying technology jobs," including software development.
But some would argue the government doesn't need to create a path, because it already exists. Matthew McCullough, director of field services for GitHub, thinks the "crowdsourced" development site, with its 11 million users, is the obvious platform to teach coding to everyone -- from beginners to seasoned professionals. "We have the raw ingredients on GitHub," he said, to empower developer education. "We offer the archetype for people from inception to a fully delivered software project, so we should be the place for education," he said. "I want to see people explore a page on GitHub, and make a plan [at their company] to go over it at lunch and dissect it together. That's a fabulous start."