Software developer skills for the future's dream programmer
The hot software developer skills of the future might not involve as much coding as you think. Find out how you can be that in-demand dream developer.
He or she is a coder, a tester and a marketing whiz -- and has the strength of 10. Meet the dream developer of...
Continue Reading This Article
Enjoy this article as well as all of our content, including E-Guides, news, tips and more.
the near future and what nearly every employer is looking for today. We're only sort of kidding about the strength of 10.
The rise of interest in this "dream developer" comes at a time when there is a severe, worldwide shortage of software developers. Is there really a shortage of people, or is it of software developer skills? Perhaps it's both.
"There is a shortage of skills, but the nature of what's a software job has also broadened," said Matt Sigelman, CEO at Boston-based consulting firm Burning Glass Technologies. "We used to see a bunch of jobs for people who were software people, and the skills were closely correlated to that. Now, there are a lot of jobs that aren't software jobs, but require software skills. The demand for this skill set has extended significantly, and that's what has put pressure on this market."
How can you fine-tune your software developer skills to fill these changing roles in the future? We asked experts around the world for their best advice.
Know the hot languages
If you have in-demand skills, including Apache Cordova, JiRA, Drupal or F#, your value in the market went up 10% or more in the second quarter of 2015, according to the Foote Partners LLC's IT Skills and Certifications Pay Index 2Q 2015. That's also true if you're a certified Oracle Professional Java SE programmer, a TIBCO certified architect or a JBoss certified developer -- just to name a few. (See the related chart for more data.)
There is a shortage of skills, but the nature of what's a software job has also broadened.

Matt SigelmanCEO, Burning Glass
But you lost 10% or more of your market value if your talents are limited to less-called for C++/CLI, Objective-C or SAS, or you're a Microsoft Office Specialist or SAS-certified base programmer.
No programmer has just one set of skills, but the point is how important it is to keep up with the trends and stay educated. "You've got to look at what's hot in the job postings right now -- like Java, SQL, JavaScript, sharp.net, Linux, XML -- and tie that back to the macro trends going on in the market," said Tim Herbert, senior vice president for research and market intelligence at IT industry association CompTIA, based in Downers Grove, Ill.
Do you own a suit?
But just the latest software developer skills aren't enough, because today's employers -- most of whom aren't traditional software businesses -- want that extra "something" from developers that can be hard to put a finger on, said Jeffrey Hammond, vice president and principal analyst for application development at Forrester Research Inc., in Cambridge, Mass. For those employers, "one developer is not necessarily equal to another," he explained, even if there is a shortage. Call it creativity, soft skills or just a willingness to speak with customers -- it's a sea change in what developers have been asked to do, Hammond and others said.
"The level of engagement [developers have] with stakeholders and business people is higher than I've ever seen it before," said Bhavin Joshi, associate director of worldwide recruitment firm Harvey Nash in London. Mix the ability to work with "the suits" with in-demand software developer skills -- mobile, UX and Android, to name a few -- and that's someone who can easily find a job in 24 to 48 hours, he said.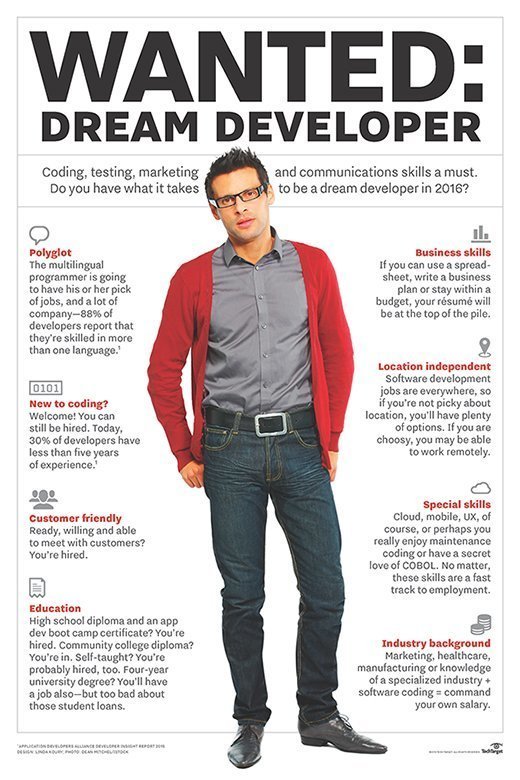 Sigelman refers to those folks as "hybrids," and said they are the hottest new hiring trend. Take user interface or user experience developers, for example: "That's a few parts product marketing, with a few parts design and with a few parts of software, yet there is that software element to it," he said. "These are hybrid jobs that really fall out of the scope of the traditional software role, but for which there is increasing demand."
But there's a troubling side to this: "We're definitely seeing overall combinations of skills that don't necessarily occur in nature," he said. Companies are eager to get people with real industry experiences who are also developers, but in many cases, that can be a tough sell. "There's a sizable percentage of clinical software development jobs asking for [healthcare] experience. In other words, I want a software developer who's been a clinician. Really?"
Location, location, location? Not so much
Dream developer jobs have traditionally been on the coasts of the United States, but that is changing rapidly due to the booming demand. So, the opportunity to get a challenging, well-paying software job in, say, Detroit, is now a real possibility. The Burning Glass report showed more job openings at Detroit's automakers for software developers than production people. And in the list of top 10 cities with the highest demand for developers, Chicago is fifth -- well ahead of eighth-ranked Seattle, which traditionally has been a software hotbed.
So, flexibility about location is now a must. And it won't hurt to also be flexible in your choice of employer and willing to take a chance. Take Aaron Hammond, the son of Forrester's Jeffrey Hammond. He is a junior at MIT, double-majoring in computer science and literature, and may arguably be the face of the future dream developer. He's been coding since eighth grade, has had summer internships coding since high school and his last summer job paid him what would have been six figures if he'd worked the entire year.
He's done his homework on employers and said he believes the bigger tech companies, such as Facebook and Google, no longer have the lock on higher paychecks and interesting work. "There's no real reason for me to pick IBM over a startup anymore," he said. "If it starts hurting, I can just go to a different one."